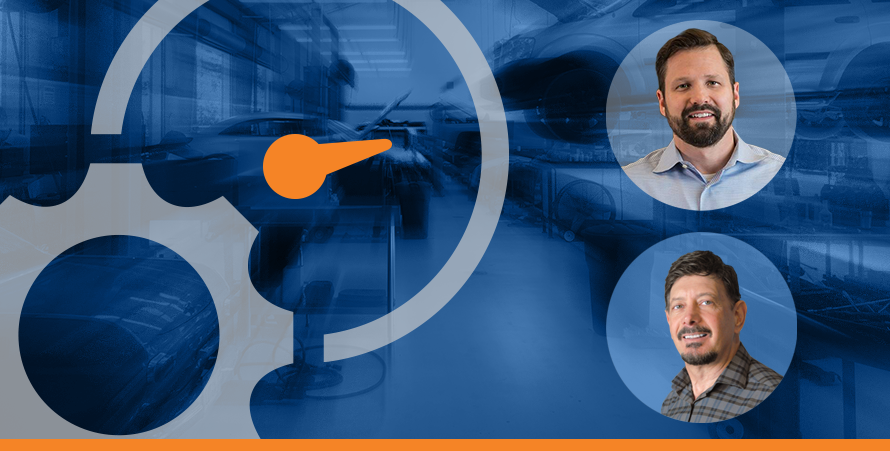 Four Tips for Tech Efficiency
Feb. 05 2019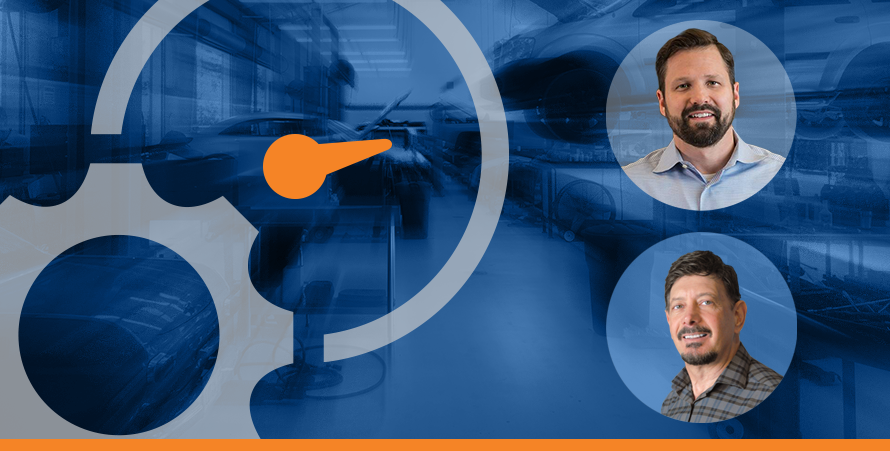 Feb. 05 2019
Both Aaron Stokes and Rich Diegle know their stuff. Not only is Aaron Stokes the founder of ShopFix Academy, he is also the owner of six repair shops with almost 20 years of experience in the car repair industry. Rich Diegle's experience is exemplified with his management of ALLDATA's Tech-Assist team and his 40+ years of working in the automotive industry. For this article, we combined their brainpower to bring you the best tips for tech efficiency.
First things first: Determining the difference between tech efficiency & tech productivity
Quick definitions of these terms show the significant differences between these two indicators. Productivity is how many hours a tech actually works vs. how many potential hours can be worked. For example, if a tech is on the clock for 40 hours, 100% productivity would be 40 hours of actual work. Tech efficiency, on the other hand, is the tech's ability to complete a job in a prescribed amount of time (whether this time is dictated by the shop or any repair information source). If a source – such as ALLDATA – suggests a one-hour job time, 100% tech efficiency would be being able to complete that job in one hour.
Now that we have these definitions in mind, let's focus on four tips to improve and maintain tech efficiency.
#1 Rich Diegle: Ask the right questions.
Rich Diegle's first tip is to make sure the service advisor communicates properly with the customer: "In order to communicate the customer's concern accurately, the service advisor has to ask the right questions." His recommendation is to create system-specific checklists: "Service advisors and techs can create their own or they can use the inspection forms and checklists included in many online repair information products." Using these checklists on the service drive ensures a more accurate description of a problem, which helps techs develop a logical diagnostic strategy early in their diagnostic process. It also leads to more accurate repairs, fewer come-backs, and overall improved tech efficiency.
#2 Rich Diegle and Aaron Stokes: Use reliable information.
Diegle recommends making sure techs use the best information and tools available. This means having electronic access to OEM diagnostics and repair information. "With increasing regularity," he points out, "manufacturers are enlisting computers to operate and monitor all vehicle systems. Some vehicles require that, after a simple brake pad replacement, certain control modules need to be programmed to recognize the new pads. There are not many diagnostic, service or repair procedures that can be successfully completed without OEM reference information."
This is where having a product like ALLDATA Repair saves the day...ALLDATA helps a tech be more efficient
Stokes agrees with this and recommends using ALLDATA as your OEM information source. It's particularly helpful, he notes, with the "problem child" – the car that gets stuck in a bay and eats up time because no one can figure out what is wrong with it. "This is where having a product like ALLDATA Repair saves the day," Stokes says, "ALLDATA helps a tech be more efficient, especially when working on those cars that seem to go into a bay and never come out. If the tech had the right information, he could get those kinds of cars out quicker. On average," Stokes sums up, "ALLDATA can probably save technicians eight to ten hours a week in efficiency just by helping diagnose and repair 'problem child' vehicles. With repair shop labor rates averaging from $100-$120/hour, all you need to break even for the subscription cost is to bill an extra hour or two a week, and the rest of the month is just gravy."
#3 Aaron Stokes: Incorporate technology.
Stokes also acknowledges that technology plays a huge role in improving tech efficiency and has found success in his own shops by using laptops. He recommends that each technician has their own laptop and exemplifies his own shop as proof of its power: "We provide Lenovo ThinkPads at every workbench. I don't want my techs walking 100 feet to a shared computer. It's right there at their bay. They can carry the laptop into the car and put it wherever it's convenient for them to do their work right there at the vehicle." This means that not only do the techs save time by not having to wait to use a shared computer, they also don't have to lose focus on the job at hand.
#4 Rich Diegle: Leverage the tech community.
There are a couple of resources that tend to be underutilized: forums and diagnostic hotline services. For forums, Diegle says as long as you use a trustworthy forum, you're bound to find something helpful: "Chances are, one of your peers has encountered the exact problem that's giving you grief and will be happy to tell you how to diagnose and fix it."
When looking for a quicker solution, he recommends using diagnostic hotline services: "Asking for help and advice from a diagnostic hotline service can result in getting the vehicle back to the customer more quickly. While most shops are lucky to see three or four diagnostic problems a week, the techs that work on these types of hotline services are involved with 10-15 diagnostic problems a day. They help techs from all over the country diagnose and repair vehicles so they are more than likely to have the answer to your exact problem."
Overall, making sure your techs are efficient and productive doesn't need to be a daunting task. Learn how to communicate, properly utilize resources to keep your techs' work focused and flowing, and invest in repair information products, such as ALLDATA, to help your techs quickly fix the tough problems and successfully improve their overall efficiency.
For more great advice from Aaron Stokes, visit shopfixacademy.com.
Want to see how ALLDATA can improve shop efficiency? Check out our suite of products, each designed to contribute to both shop efficiency and productivity.
If you would like to read more articles like this one please subscribe to ALLDATA News.