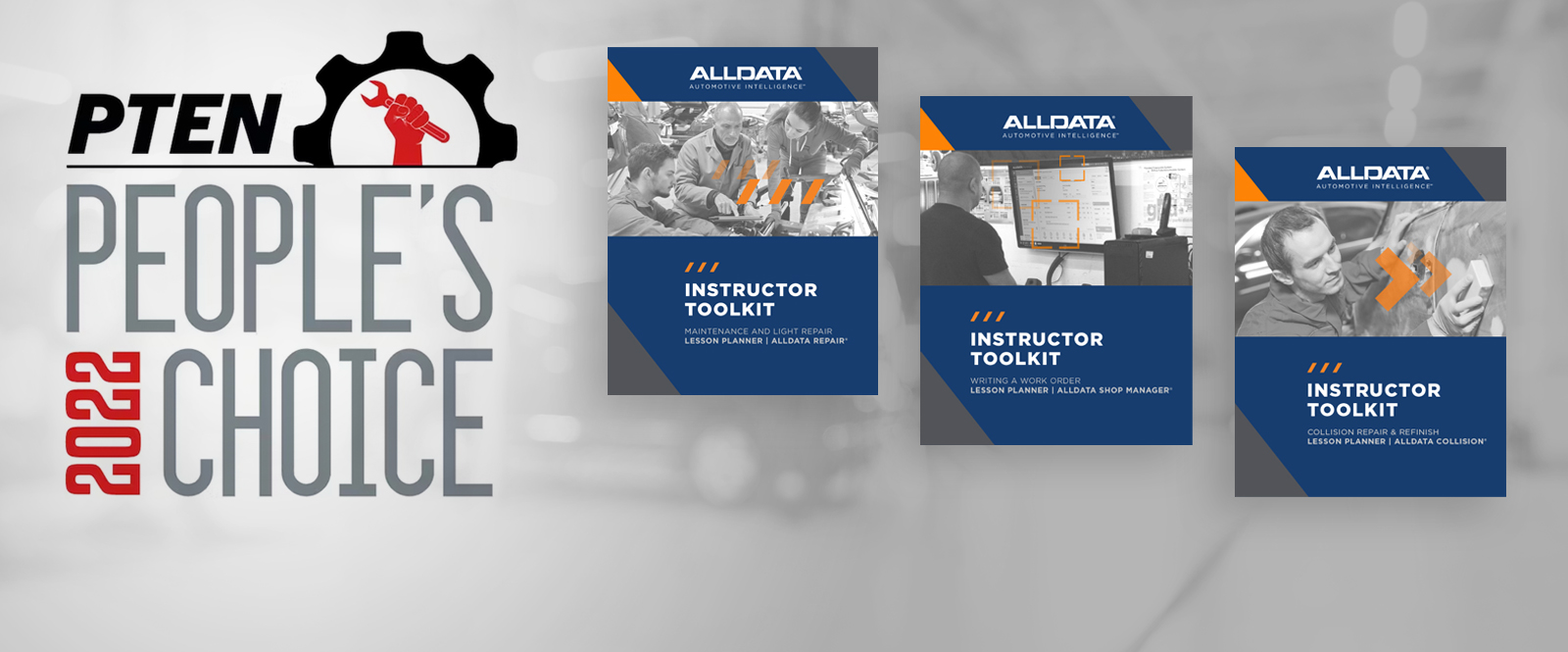 INSTRUCTOR TOOLKIT WINS PEOPLE'S CHOICE AWARD
Nov. 08 2022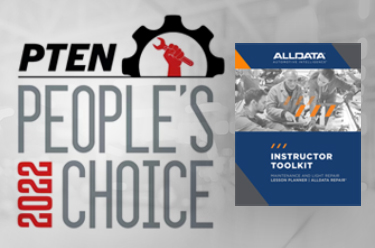 Nov. 08 2022
PTEN magazine has announced the results of its 2022 People's Choice Award program, which calls on its readers to vote for the tools and equipment they prefer from the Innovation Awards program.
ALLDATA's new Instructor Toolkit was named the 2022 PTEN People's Choice Award winner in the training category. It also received the 2022 PTEN Innovation Award, which is chosen by a third-party panel of industry judges.
The Instructor Toolkit is a turnkey resource for automotive and collision career and technical education (CTE) programs. It enables educators to quickly create curriculum that integrates ALLDATA's industry-leading OEM repair information and meets ASE accreditation standards.
Mike Coley, president, ASE Education Foundation, said "ALLDATA's new toolkit includes lesson planners that instructors can use when training students to help them locate relevant service information and all the information is aligned to the ASE Education Foundation standards."
Clear, step-by-step instructions, goals, and objectives
Tasks for students that mirror the Task List at the end of the ASE Standards guide
Vehicle examples (specific to year/make/model/engine) and navigation path to the required information
"You've given instructors a solution in a box, and it is over-the-top awesome," said George Arrants, vice president, ASE Education Foundation, in the same interview.
The first CTE resource of its kind, the Instructor Toolkit was developed in partnership with the ASE Education Foundation and follows the format of the ASE standards guide. Each Instructor Toolkit includes:
There are three Instructor Toolkits, which are provided at no additional cost to educational subscribers: "Maintenance and Light Repair" (ALLDATA Repair®), "Collision Repair and Refinish" (ALLDATA Collision®), and "Writing a Work Order" (ALLDATA Shop Manager).
Lean more about ALLDATA's award winning CTE resource: Instructor Toolkit.
Want to see how ALLDATA can improve shop efficiency? Check out our suite of products, each designed to contribute to both shop efficiency and productivity.
If you would like to read more articles like this one please subscribe to ALLDATA News.