Saturn Won't Crank When Hot
Mar. 02 2021
Mar. 02 2021
Vehicle: 2008 Saturn Aura, V6-3.5L, Automatic Transmission/Transaxle
Mileage: 148,990
Problem: The owner brought this vehicle to the shop because, if the engine was turned off when it was at full operating temperature, it would not crank over when trying to restart. After cooling down for a while, the engine would crank and start normally.
Case Details:
The technician connected a scan tool and retrieved the diagnostic trouble code (DTC) P0615 - Starter Relay Control Circuit. Not being too familiar with that DTC, the technician called ALLDATA Tech-Assist for some advice.
The Tech-Assist consultant recommended the technician use the scan tool to check the parameter identification data (PIDs) for a "crank request" and a "starter relay command".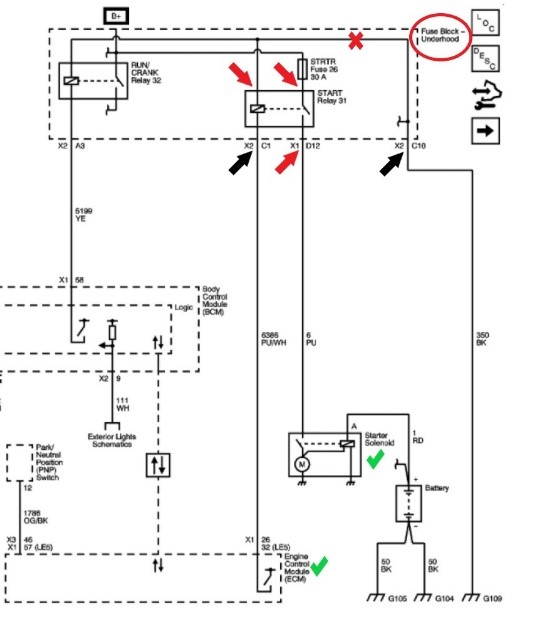 The technician found that the PCM was showing "YES" for the "starter relay command" while turning the key to the "crank" position. And when he traced the Start Relay 31 circuits, he discovered that the underhood fuse box was internally losing the ground for the starter relay. Connector X2, pin C10 (see diagram) at the fuse box was supposed to be chassis ground, but the relay was losing the ground once the engine warmed up.
Confirmed Repair: The technician replaced the underhood fuse box and cleared the DTC. After the repairs, the Saturn started fine – hot…or cold. Fixed!