Customer Portal
Make a payment, review your billing history, and make changes to your account settings.
Accessing the Customer Portal
Account administrators with standard billing can access the ALLDATA Customer Portal from the www.alldata.com or my.alldata.com (after login) header menus or directly at https://www.alldata.com/us/en/customer/login
If you are unable to access your account, please contact our Billing department at 800-859-3282, option 3 for assistance.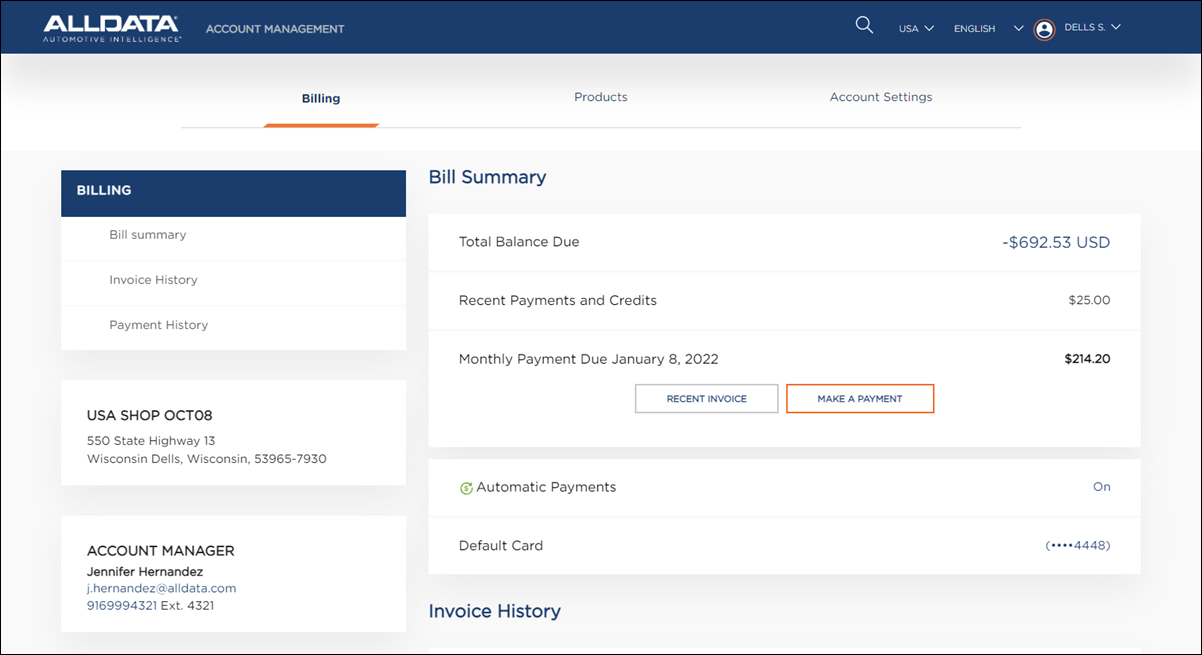 Information available on the Customer Portal
Billing
You will be able to access the following information on the Billing tab:
Bill Summary
Total Balance Due

Recent Payments and Credits

Monthly Payment Due Date and Amount

View Bill Details

Make a Payment

Automatic Payment Status

Default Card Reference (For Automatic Payments)
Invoice History
Download previous invoices as PDF
Payment History
Products
Active Products
Access the products that you are subscribed to.
Your Subscription
Subscription Term

Auto Renewal Date

Invoice Frequency

Access Points (per product)

Discounts

Subscription Total

Legal agreements, sales contracts, and order confirmation emails (links to Legal Agreements & Contracts section of Account Settings tab)
Account Settings
You will be able to access the following information on the Account Settings tab:
Account Information
Company Name

Account Status

Shop Name

Shop Address

Biling Address

Mailing Address
Contact Information
Account Phone Number

Email Address

Business Email Address
Legal Agreements & Contracts
Recent Subscription Contract (Download as PDF)

Recent Order Details (Download as PDF)

Payment Notifications
Automatic Payments
Enable/Disable Automatic Payments

Next Payment Due date

Payment Method

Payment Amount

Payment Frequency
Saved Payment Methods
Update/Remove existing saved Payment Methods

Add New Payment Method
Billing Cycle
Invoice Due Date

Current Billing Cycle