Exporting to QuickBooks Online
Exporting invoice data to QuickBooks Online can be done at any time.
Click Accounts >> QuickBooks Online.

Select to display Invoices, Credits or Payments >> Today or Date Range >> click Display.

Selecting Date Range allows you to export invoices between a Date From and a Date To.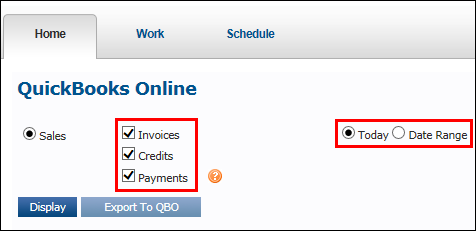 Click the Select All check box or specific Export check boxes to select the invoices to be exported.


Click Export to QBO (QuickBooks Online).

A popup message will display >> click OK.

Note: The selected invoices will have transferred into QuickBooks Online, unless otherwise noted.

Successful Transactions will display with a green check mark.

Failed Transactions will display a red dot with a white X.

Click the red dot to see a reason for the failed transaction.

Failed Transactions can be re-exported at any time after fixing the issues.