Setting Up QuickBooks Online
IMPORTANT - The images used in the instructions are examples.
Consult your tax professional to confirm you are using the correct accounting information when exporting to QuickBooks.

QuickBooks has ended support for Internet Explorer 11.

We now recommend using Google Chrome when using a QuickBooks Online integration.
Set up QuickBooks Online:
Part 1: Create Sales Class Codes​
In ALLDATA Manage Online
Sales Class Codes can be created and modified under Setup >> Codes >> Sales Class Codes Maintenance.

It is not necessary to match your Sales Class Codes from Manage Online to QuickBooks because the export will create their own income accounts in QuickBooks.

The account codes can consist of numbers and letters and have a maximum length of eight characters. 

Once the Sales Class Codes have been added to Manage Online, the Default Sales Class Codes can be set under Setup >> User Options >> Default Sales Class Codes.

This will assign the codes to the relevant transaction lines automatically when creating an invoice.

Note: Sales Class Codes can still be manually assigned to individual parts and labor items instead of using the defaults.
Part 2: Enabling QuickBooks Online 
Click Setup >> User Options >> QuickBooks.

Click the Enable QuickBooks Online check box.

Enter your QuickBooks Online Company ID >> click Update.

 Notes:

Your QuickBooks Online Company ID is assigned to your shop by QuickBooks. This will link your program to QuickBooks Online.

When entering the QuickBooks Online Company ID, do not include spaces.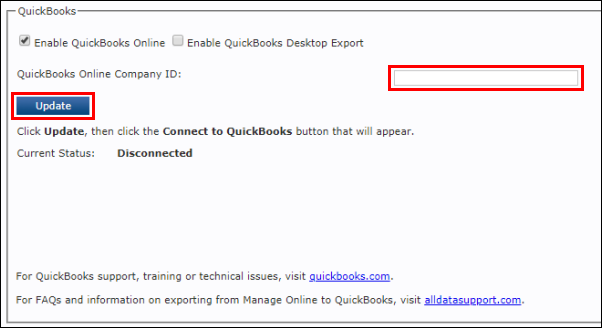 The page will reload. Click the Connect to QuickBooks button that displays.

A new window will open that will allow you to finish connecting Manage Online to QuickBooks Online.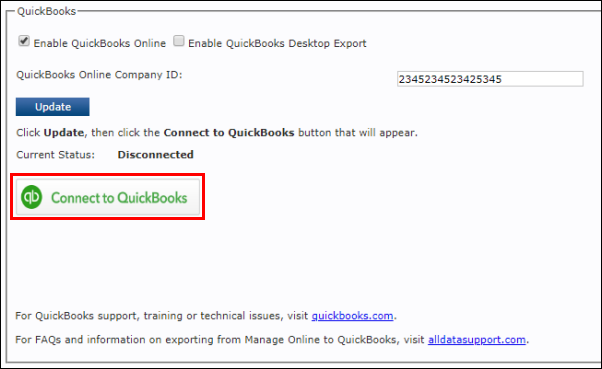 Click the Expense Account "..." button.

In the Accounts List popup window, select an Expense Account >> click Update.
Note: Contact your accountant or local tax professional to determine the appropriate Expense Account to select.
Select which Payment Method will be assigned in QuickBooks when a specific Payment type is used in Manage Online.

Confirm the Current Status is Connected and the Expense Account is selected >> click Update.