Online Parts Catalog Setup
You can order parts online through ALLDATA Manage Online using any of the following:
AutoZone

ATD

Transtar Industries

IMC

Local parts SUPPLIERS affiliated with the following parts CATALOGS:

Nexpart Multi-Seller

TurboParts (DST)

WHI Solutions

Autocat+

Federated Autoi

Note: Please contact your parts supplier to find out which online catalog they use.
1: Setting Up Supplier Accounts 
Before you can order parts online, you must set up accounts with each Supplier.
AutoZone, ATD , Transtar, and IMC use a catalog that is specific to their company and act as both a SUPPLIER and CATALOG.

Nexpart Multi-Seller requires the creation of a free account to log in and access vendor resources. From there you can use existing vendor credentials or set up new vendor accounts within the Nexpart Multi-Seller website.

Other local parts SUPPLIERS work in partnership with parts CATALOGS (WHI, TurboParts[DST], Autocat+, IAP, Federated Autoi ).

Contact each local SUPPLIER directly to set up an account and get credentials (such as a username and password).

The CATALOG companies do not supply credentials. Instead, contact the local parts SUPPLIER that delivers the products that you order through the CATALOG websites.
2: Setting Up Catalogs
Click Setup >> User Options >> Catalogs.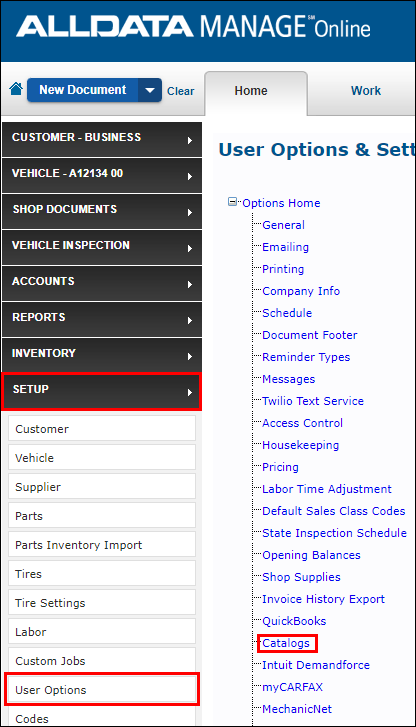 AutoZone
Fill in your AutoZone PIN & Password >> click Save.


Nexpart Multi-Seller
Connect NexPart Multi-Seller to Manage Online 
Fill in your Nexpart Multi-Seller Username & Password >> click Save.


Add parts vendors to Nexpart mUlti-Seller
Click Find/Refer Sellers in the top navigation menu.


Enter your address or zip code.

A list of local vendors will appear.

Note: If your Vendor is Nexpart enabled, but does not show on the list, you can add them by going to Dashboard >> +Connect Seller and using credentials that have been provided to you by the vendor.

Click  +Add on the vendor you would like to add.

Select an option that best describes your current relationship with the vendor and complete the sign in/sign up process. 

Set Vendor Priority
Within the Nexpart Multi-Seller catalog, click Dashboard in the top navigation menu.


In the My Sellers section click and hold the "hamburger" icon to drag and drop your vendors into the appropriate order.

Third Party Catalogs & Parts Suppliers
Before setting up a parts catalog:
Select a Supplier.

Select a Catalog.

Fill in the catalog credentials.

Note: Each catalog has it's own unique credential requirements.

Click Update.


The supplier and catalog are now linked. They can be updated by selecting Edit or Delete. ​

Note: Deleting a CATALOG will not delete the SUPPLIER.