User Options - Printing
Printing options allow you to change print layouts, add an estimate disclaimer, upload document logos, change margins, enable pop-up print previews, and consolidate lines. 
To set or update your printing settings select Setup >> User Options >> Printing.
Print Output Options
Select Layout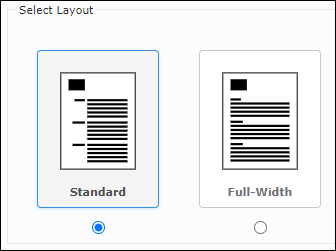 Choose to display the content of your printouts in a Standard or Full-Width layout: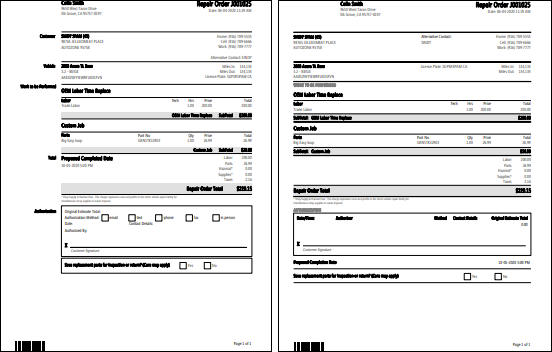 Select Items to Show on Output

Choose to display the following sections by checking the corresponding boxes:
Your Right to a Written Estimate

Discounts

Labor Quantity & Rate

Save Replacement Parts

Intended Method of Payment

Proposed Completion Date

Barcode

Repair Order Authorization
Minimum Lines
Specify the minimum number of parts and labor lines to display on the Technicians Worksheet printout. (The system will print "blank" boxes to fill in manually if the minimum hasn't been met.)

Minimum part lines in a repair order

Minimum labor lines in a repair order
Example:

Customize Text for Extras
Customize the text that will display for the following sections:

Symptoms and Diagnostic Trouble Codes

Supply/Hazmat Fee Comment
Example: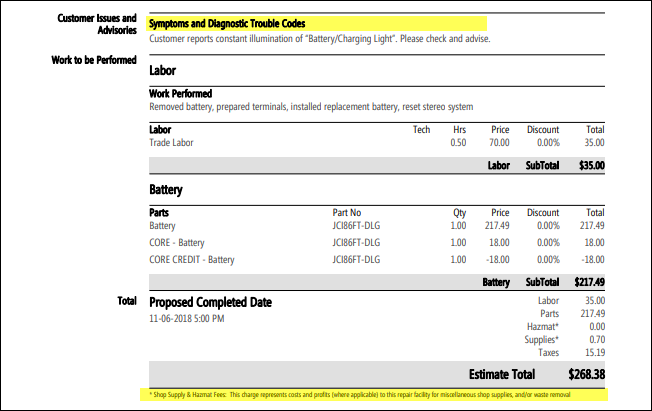 Document Logo Upload

To show your logo on printed documents:
Check the Use image in documents box.

Click either Choose File (Chrome) or Browse (Internet Explorer).

Navigate to where the image is located on your computer and select it. (For the best results images should be 230 pixels wide and 160 pixels high.)

The file name will appear in the box next to Choose File/ Browse.

Click Image Upload.

​​The image will now display under Current Image.
Margins
Use these fields to adjust the margins of the various documents.

Note: It is recommended to leave these set to 0 for initial setup and adjust later if any fine tuning is required.
Automatically popup print preview
Choose when you want the print preview window to open automatically.
Consolidate lines on document

Choose how you want your Parts and Labor line items to print

Note: Choosing these options will eliminate all itemized line items and print a single line item. The text you enter in the fields (i.e. Parts Used) is what will appear on the customers Estimate, Repair Order and Invoice.
Invoice Reprint
When reprinting an invoice for a customer whose address had been changed, receive a prompt to select the Current or Original address.
Include Schedule of Work
Select Include Schedule of Work to print a copy of the invoice with no monetary values for parts and labor. Helpful when splitting invoice payment with 3rd party. (e.g., Insurance company.)

Add any text you want to appear on the Schedule of Work 

Example: This document is for reference purposes only. This is not an Invoice.