Code Settings - Taxes
Set up your tax rates for Parts, Labor, and other taxable and non-taxable items.
 
To update Tax information:
Click Setup >> Codes >> Tax Setup.

Click Update Tax to update current tax rates for your location based on the ZIP code.

Select the default Product Tax Type for Non inventory parts and Non inventory tires >> click Update Defaults.

Note: To apply taxes before the discount is applied, click the Apply Tax before discount check box. Consult your tax professional to confirm you are able to use this feature in your state.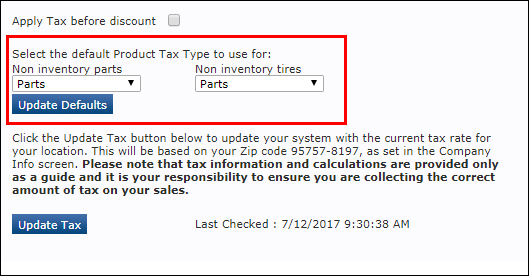 Add additional tax codes (optional): Enter a Type, Description, select Resale or Exempt, enter a Commodity Code, State, City, District >> click Update.

Note: Consult your tax professional to confirm the tax codes in your State, County, City and District.