User Options - Opening Balances
Follow the process below if you have customers and suppliers with an open account balance.
Click Setup >> User Options >> Opening Balances.

Select whether the account is Sales or Purchase >> enter the Account Number >> Reference number >> Balance amount.

Sales: Marks this as a customer account. This is what the customer will owe the shop.

Purchase: Marks this as a supplier account. This is what the shop will owe the supplier.

Account Number: The Customer ID or Supplier ID of the account. Enter this ID, or use the search options next to the field.

Reference: This identifies the transaction. This will show as Ref in various reports.

Balance: The dollar amount of the Opening Balance.

Click Add.

Confirm all information >> click Post.
Notes:  

Once a Opening Balance is posted, it cannot be removed.

If the information is incorrect, click the red X to delete the Opening Balance before it is posted, then create a new entry.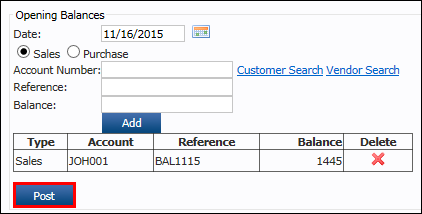 Click OK. 

Click OK.

The Opening Balance information will now be included in the relevant reports.