What's New
April 2021
Usability Improvements and bug fixes
Parts and labor notes have been moved from the bottom of the listing to the corresponding line item.

Printed images will now automatically scale to fit on a page.

Improved sorting for lists of numbers.
December 2020
Enhancements and fixes based on customer feedback
Highlights for this release include adjustments to the floating header and Colored Wiring Diagrams, and image viewer enhancements.
June 2020
Interactive Color Wiring Diagrams - Additional enhancements to wire selection.

PDF Support - Additional enhancements to PDF display.
April 2020
Maintenance Service Tables - Updated layout display to more easily navigate the the service intervals and maintenance details.

Interactive Color Wiring Diagrams - Selecting a component will now highlight connected wires.

Additional enhancements will be added in a future release

PDF Support - We are now able to provide OEM PDF documents in their original format.

PDF content will be published along with our normal data publication process.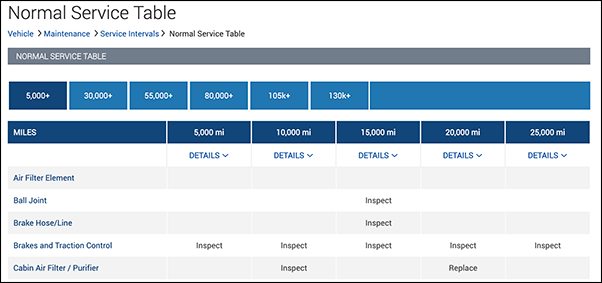 January 2019
Refreshed Parts and Labor page format. 

Continued performance improvements.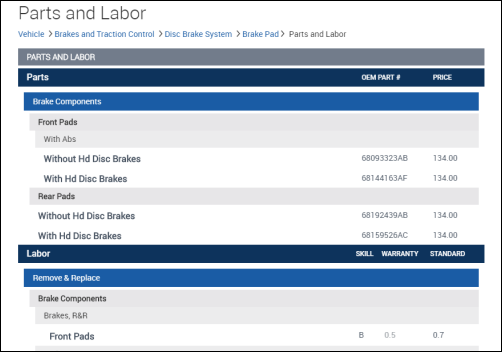 September 2018
Component Search now displays Systems & Components at the top of the search results.

Technician's Reference and Share a Repair links have been swapped for quicker access to important reference information.

Maintenance schedules can now be printed in a customer friendly format.

Image thumbnails include option to open in new tab.

Search filters for Systems and Component lists now filter based on individual keyword.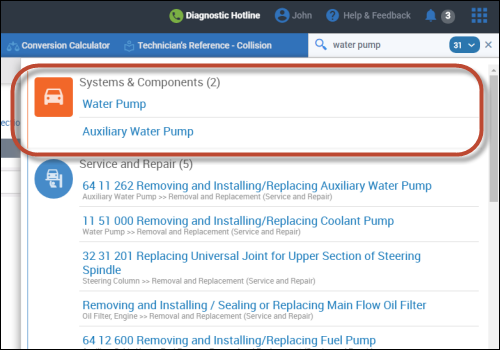 July 2018
Browser cache no longer needs to be cleared after an update in order to see the latest changes.

New repair info list now available from the Portal page.

Breadcrumb links can now be opened in a new tab when right-clicked.

Links that refer to the currently open page have been disabled.

Continued performance improvements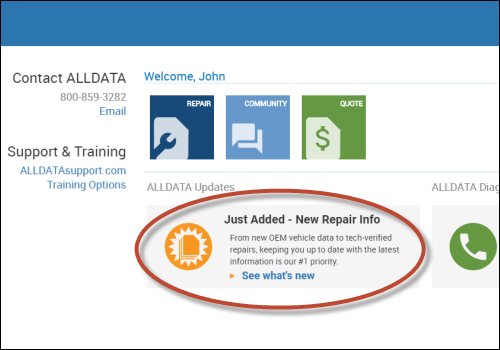 February 2018
Requested Enhancements
Conversion Calculator - Redesigned to pop out to a separate window

Screen Layout - Header size reduced and various spacing adjustments made to better fit different screen sizes. Related information on article pages can now be hidden

Selected Vehicle - The selected vehicle info in the header can now be clicked to return to the main "vehicle" level of repair information

Printed Diagrams - Adjusted print layout to fill more page space

Performance Improvements, Bug Fixes and more...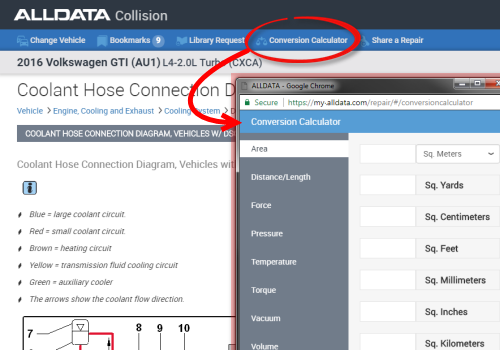 October 2017
Vehicle Search Improvements
Vehicle search can find vehicles based on information from the full ACES vehicle description (Example: Search for Hellcat and return results for Dodge Charger and Challenger models)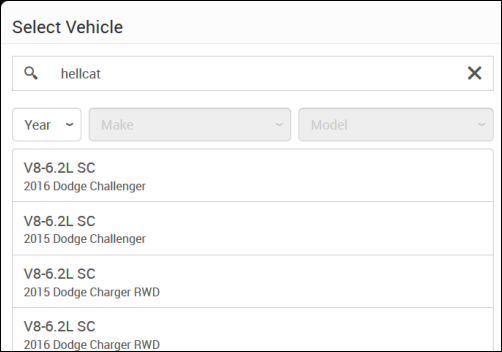 Interactive Color Wiring Diagram Enhancements
Highlight a circuit across pages with one click.

Note: This feature is not currently available on Mozilla Firefox browser.

Search for text within a diagram set.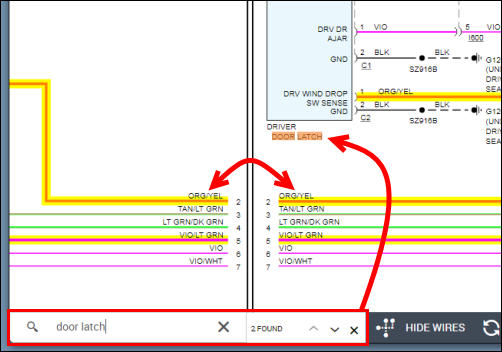 September 2017 Updates
Interactive Color Wiring Diagrams
Full color diagrams that are standardized across makes

High quality images remain crystal clear when zoomed

View multiple diagrams side by side

Highlight and hide wires and components

Print highlighted diagrams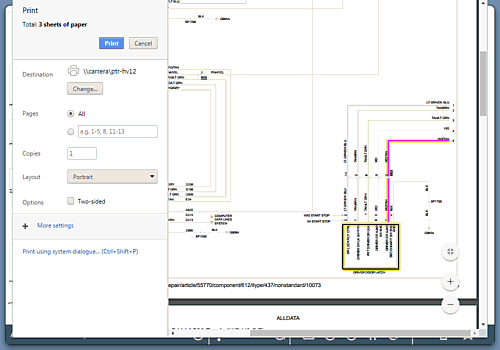 Information Shortcuts
Quickly determine if common information is available for multiple systems or components without having to open each page

Jump directly to the information you need

More components display on each page

Less clicks needed to locate information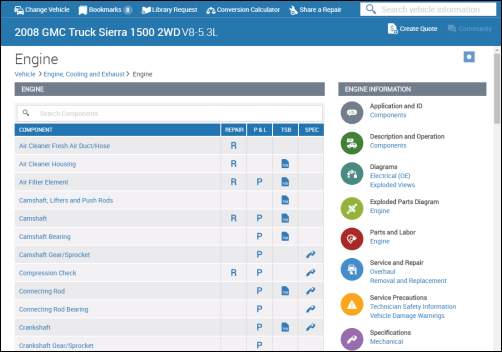 June 2017 Updates
Added search suggestions and spell check (closest match) to the Vehicle Information Search

Increased automatic system logout time. Users will now be logged out of the system after 7 days of inactivity

Improved username and password recovery experience
February 2017 Updates
Added the ability to print quotes

Improvements to the login and password reset process

Added Shop Operations guide

Added search to DTC charts

Performance improvements / bug fixes
my.ALLDATA.com Update
The latest update for ALLDATA Repair and ALLDATA Collision introduces a new look and feel with a familiar navigation structure that brings together the best attributes of ALLDATA Repair, Repair S3000, Collision, and Collision S3500.
Along with the new look comes some exciting new features:
ALLDATA Portal - my.ALLDATA.com
Log in to your ALLDATA apps from one location with one username.

Administrators can set access to apps based on a user's role in the shop (Owner, Service Advisor, Technician, etc.). 

Repair, Collision, Community, and Quote are the first apps to be offered, with more to come.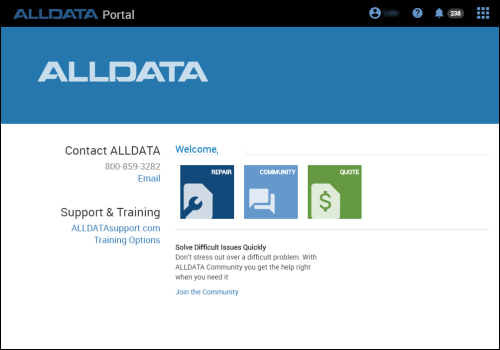 Enhanced Component Search
More search results from deeper information scans.

Search results have been reordered to bring the most relevant information to the top of the list.

Better search result descriptions.

The most recent search remains easily accessible on the screen, allowing you to continue researching similar items.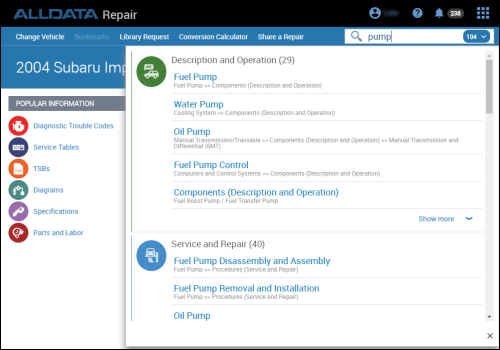 Quick Access to Tech-Verified Repairs
See all the available Community repairs, including tech-verified repairs and probable causes, that are available for the selected vehicle without a separate search in the Community app.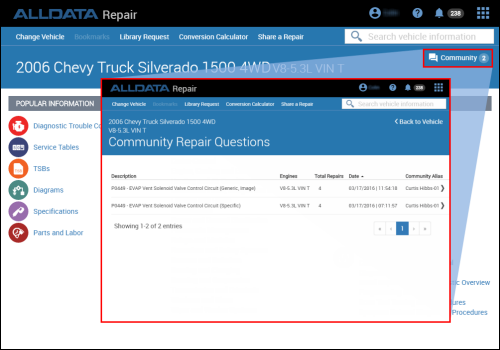 Improved Vehicle Selection
You can now type all or part of the vehicle description (Year, Make, Model, Engine or VIN) to quickly narrow down the vehicle selection list.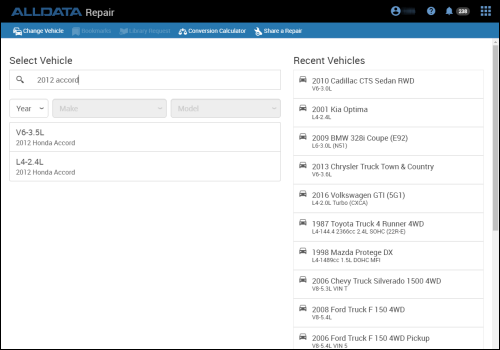 In-product Guidance
Let us guide you through ALLDATA features with in-product walk-thrus and quick access to support articles and videos.

If desired, directions will pop up on the screen with details about what to click next and what information to enter.

Continue to check on the list of available walk-thrus, as new content will continue to be added.