Definitions of the WIP Preset Status Codes
The WIP (Work In Progress) screen contains two types of Status codes: Preset and Customizable
Preset Codes:
Can NOT be edited. The definitions of each Status are below.

Are identified by a black and white symbol in the selection screen.
For information about Customizable Status Codes, see Setting Up the WIP Screen.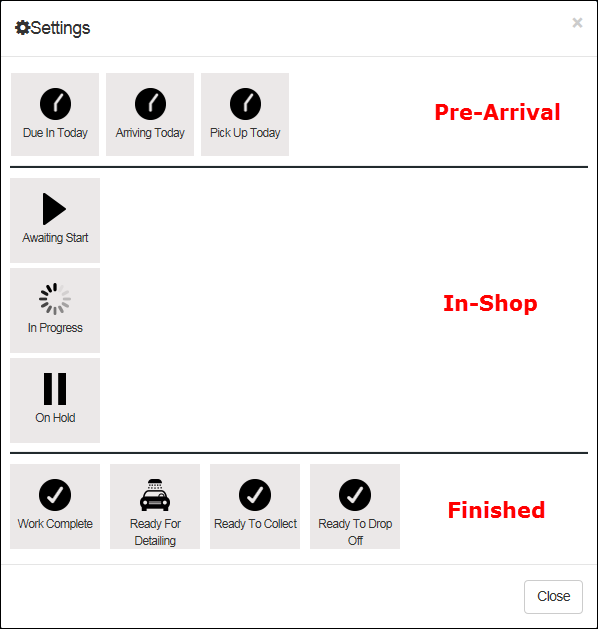 Preset Code Definitions:
Pre-Arrival
Due In Today

Contains both Arriving Today and Pick Up Today.

Arriving Today

Vehicles that are not yet onsite, but are scheduled to arrive. Once the "Due In" time has been met, the Repair Order will turn red to show it is overdue.

Pick Up Today

Vehicles that need to be picked up from the customer and brought into the shop.
In-Shop
Awaiting Start

Vehicles that have arrived and are waiting to enter the shop.

In Progress

Vehicles that have entered the shop and are currently being serviced.

On Hold

Vehicles that are waiting on parts, authorization or technicians in order to start/continue the work.
Finished
Work Complete

Contains Ready to Collect, Ready to Drop Off and Ready for Detailing (when detailing is required).

Ready For Detailing

Vehicles that are ready to be detailed.

Ready to Collect

Vehicles that are ready for the customer to pick up.

Ready To Drop Off

Vehicles are ready to be taken from the shop to the customer.