Part 6: Creating an Estimate, Repair Order or Invoice
From the Work screen, click Estimate, Create R/O or Invoice.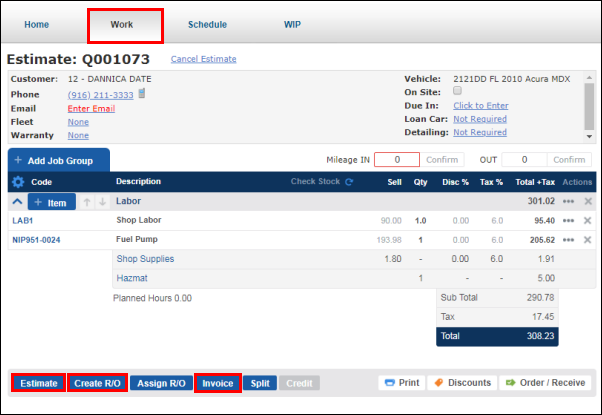 Estimate and Create R/O

These may be modified and saved, or turned into Invoices at a later time.

These options will immediately display a printable PDF document.

Invoice

Once marked as paid, Invoices are final and cannot be modified.

Fill in/confirm all fields in the Invoice Confirmation popup window.
IMPORTANT - Assign Sales Class to invoice drop-down box:
It is best to leave this option blank so that each item on the invoice will default to the Default Sales Class Code that you have previously assigned to it.

If you make a selection in this drop-down, it will assign the selected Sales Class to the ENTIRE invoice. This will create accounting problems if you export data to QuickBooks.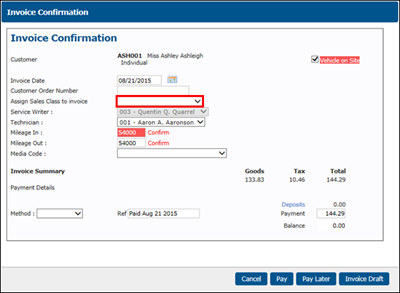 Select Pay or Pay Later (options available based on the customer's Account Type) to close the invoice.
Pay

​Confirms payment has been collected based on selected Method.

When invoicing a warranty job, you will be prompted to split the invoice.

Pay Later

Finalizes the invoice, but sets the total as an outstanding balance.

Outstanding balances can be viewed in the Customer Statements report and Aged Balances report.

Invoice Draft (available if an RO has been created for the work document)

​Displays a preview of the Invoice before it is finalized.