Error Messages When Exporting to QuickBooks (Desktop)
---
Symptom(s)
---
Two or more of the following messages appears in QuickBooks when exporting an .IIF file from ALLDATA Manage Online to QuickBooks.  
You can only select a vendor that is specified as a sales tax agency in the name column.

Error on Line #: can't record invalid transaction.

Your data has NOT been imported successfully.
---
Possible Cause(s)
---
The Tax Supplier field is empty in the QuickBooks settings in ALLDATA Manage Online.
---
Suggested Solution(s)
---
IMPORTANT: If you made any changes to your QuickBooks company file since you last created a backup, do not restore your company file.
Restoring an old backup file will cause all data entered since the last backup to be lost.

It is recommended to manually remove transactions from the last import.
In QuickBooks:
If you backed up QuickBooks immediately before importing the .IIF file, restore your backup file in order to reverse the last data import.
In ALLDATA Manage Online:
Click Setup >> User Options >> QuickBooks.

Enter a Tax Supplier >> click Update.

Example: BOE (Board of Equalization)

Note: Consult your local tax agency to determine your Tax Supplier.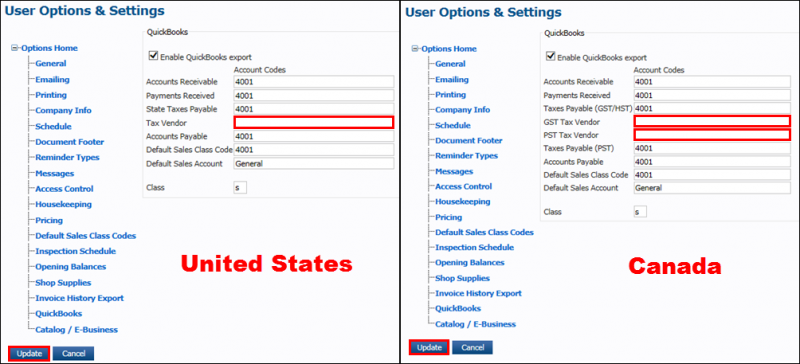 Begin the export process again using the same date range as the previous export.