Using Deferred Work
Use Deferred Work to keep track of suggested jobs declined by the customer.
To Defer Work
From an Estimate or Repair Order, click the red X on the declined job grouping (or select Defer from the "..." Actions menu).


A pop-up will appear >> click Defer.


A pop-up will appear >> select the Jobs to Defer, Due Date, Reason and Deferred By >> click Defer Jobs.

Duration: Number weeks to defer the work.

Reason: Customer's reason for declining the work at that time.

Deferred By: Employee who deferred the work.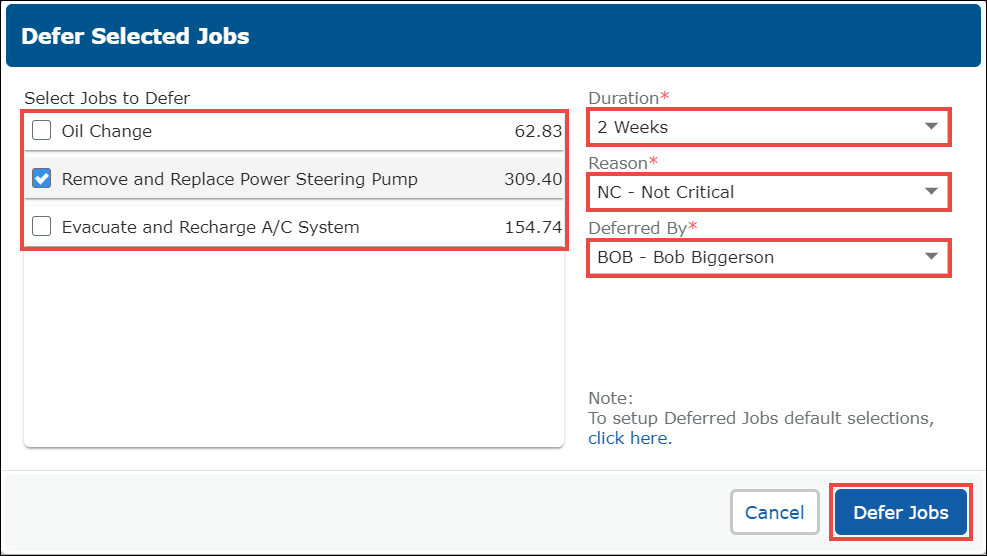 Note: The job grouping will disappear from the work document, and be recorded in the Deferred Work tab under Shop Documents.
To View and Select Deferred Work
In the vehicle display, click View Deferred Jobs.
 

A pop-up will appear with previously deferred jobs >> select the job you wish to add to the repair order >> click Add.

The Deferred Job will now be included on the work document.