Adding and Invoicing Warranty Jobs
Note: If the warranty options are not displaying, uncheck the Hide Warranty Details checkbox in Setup >> User Options >> General.
Adding a Warranty Provider
Warranty Providers (such as third-party warranty companies or parent companies) must be set up under their own Customer record.

Customers that are having vehicle work done can be assigned to a Warranty Provider.

This allows you to split the invoice:

Bill the Warranty Provider for work covered under the warranty.

Bill the vehicle owner for any remaining charges.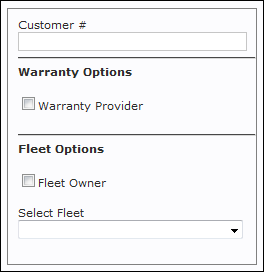 To Set a Customer as a Warranty Provider:
When Adding a New Customer, check the Warranty Provider checkbox to identify this Customer as a warranty company that may be financially responsible for repairs.
Invoicing Warranty Jobs
On the Work screen, click the None link next to Warranty.

Select the Warranty Provider >> Complete any of the applicable boxes on the Warranty Details screen >> click Update.

Create the Work document as usual.

When converting the RO to an invoice, you will be asked to split the invoice.

Create a Split Invoice to take payment from both parties.