Good Better Best Jobs
Note - To use this feature, you must enable Good Better Best in Setup >> User Options >> General.
Good Better Best options allow you to present 2-3 similar jobs to a customer. This allows customers to easily see the difference in pricing for various tiers of parts or services.
Examples:
Brakes (Different brands, material types, etc.)

Oil (Synthetic / non-synthetic, weights, etc.)

Specials (Normal price vs. special pricing)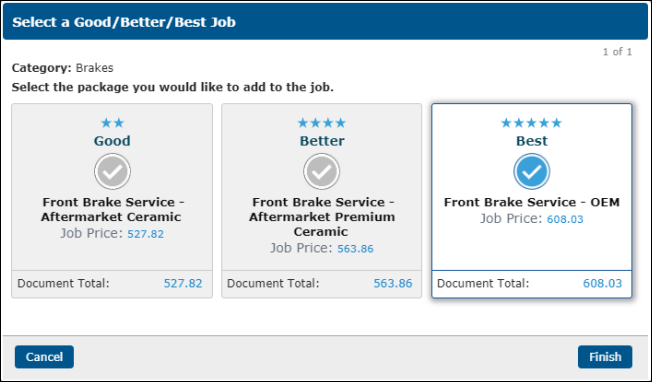 How to display Good Better Best options
Add 2-3 similar jobs (same job category) to a work document using one of the following methods:

Add precreated custom jobs.

Manually add items to each job.

Add or create a single job >> clone the job >> modify the items on the job.

Add or create a single job that includes all part and labor options >> clone the job >> delete the extra items that are not needed for that job option.

Click + item (or the actions menu) next to one of the jobs you want to display Good Better Best options for >> select Good Better Best.

Select 2-3 jobs as Good, Better or Best >> click Okay.

Note: All jobs on the ticket with the same job category will display as options. 

Click Select in the Select Good Better Best notification to display the Select a Good/Better/Best Job screen.

Select the job the customer has agreed to >> click Finish.

Note: The unselected jobs will be removed from work document.
Note - Where there is a choice of Good, Better Best jobs, the value of these jobs is not included in the document totals.