Adding and Invoicing Fleet Vehicles
Note: If the fleet options are not displaying, uncheck the Hide Fleet Details checkbox in Setup >> User Options >> General.
Adding Fleet Vehicles
Customers can be assigned as a Fleet Owner or as part of a fleet (vehicle driver).
All vehicles added to a customer record that has been assigned to a fleet are considered part of that fleet.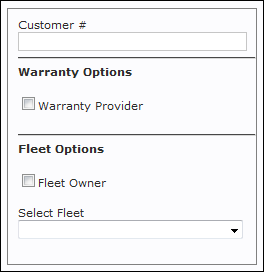 Create Separate Customer Records for the Fleet Owner and Vehicle Driver(s):
Set a Customer as a Fleet Owner.

When Adding a New Customer, check the Fleet Owner checkbox to identify this Customer as the parent company that is financially responsible for the vehicle fleet.

Assign one or more Customers (Vehicle Drivers) to an existing fleet.

When Adding a New Customer, choose an option from the Select Fleet drop-down menu.

Note: Multiple Customers can be added and assigned to the same Fleet Owner.

Add a Vehicle to a Customer record that was assigned to the fleet.
Invoicing Fleet Vehicles
On the Work screen, click the Fleet link that shows the fleet associated with this customer.

Note: If no fleet has been assigned to this customer, click the None link to quickly select a fleet, then continue creating the Work document.

Complete any of the applicable boxes on the Fleet Details screen >> click Update.

Create the Work document as usual.