What's New in ALLDATA Manage Online
As part of our ongoing quest to make your job easier, we've added great new features to ALLDATA Manage Online.
IMPORTANT

- End of Support for Internet Explorer
Due to ever-changing technological standards and Microsoft's own end of support timeline, ALLDATA MANAGE Online is no longer supporting Internet Explorer. 

You will no longer be able to log into Manage Online with the Internet Explorer browser after the update on March 28 2022.
November 2022
KPI Dashboard
Showcase key metrics on shop performance
Benefits:
View a quick overview of important shop analysis information with quick links to reports.

Customize your KPI dashboard to meet the needs of your business.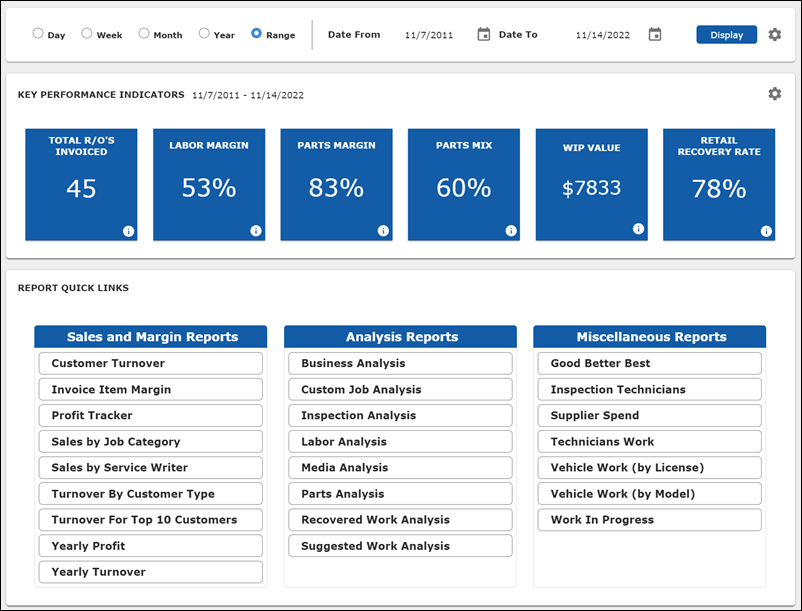 Miscellaneous changes and bug fixes​
Additional Enhancements:

FullThrottle data export - Send a daily export of your invoiced document data to FullThrottle.

Bug Fixes (Disclaimer - Most of these are rare or occur under very specific circumstances and have not affected the majority of our users):

Unable to Create Text Message from Customer List Screen 

The Repair Search page can invoice ROs that have uncommitted Good Better Best Jobs 

Catalog Functionality Not Working as Expected when adding a Suggested Job 

Supplier Spend Report text is cutoff  

Business Analysis Report top grid Totals are matching the bottom grid Totals 

Manage online Chat box showing wrong time on the sent messages 

Work Schedule printout page format issue occurs when the Warranty Provider isn't select under the Warranty section

Can't view RO document due to error 

Error Exporting to QBOL 

Error Message Pop-up Has Misspelled Content 

Vehicle health check 500 error 
July 2022
Deferred Job Enhancements
The Deferred Job workflow and UI has been enhanced to support an easier way to defer multiple job groups for a better user experience.
Benefits:
Save clicks by deferring multiple job groups at once

Set default deferral duration
Learn More - Deferred Job Setup / Using Deferred jobs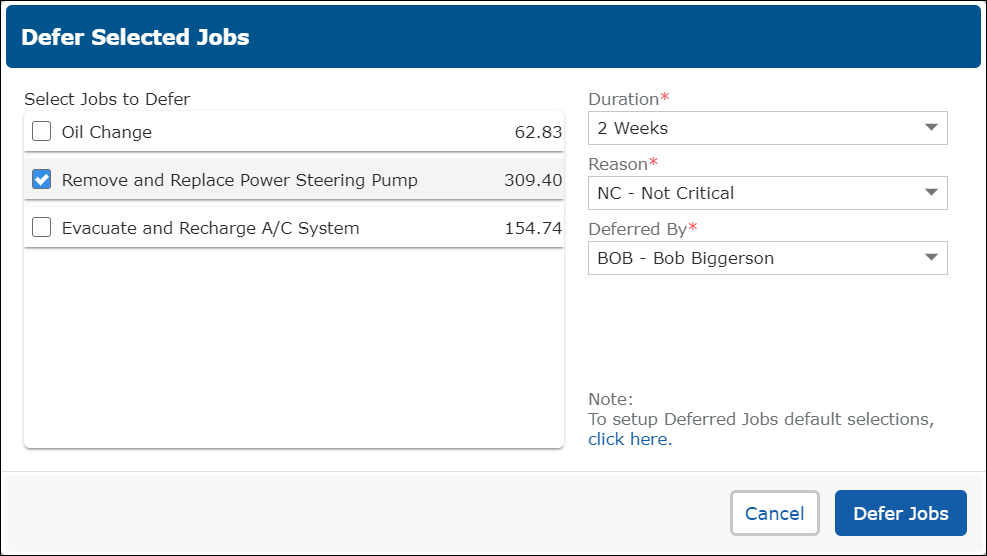 Shop Data Export
Receive a daily export of your invoiced document data to an sFTP location
Benefits:
Automatically receive exported data in a secure location

Integrate additional systems that are capable of reading exported data
Flexible Texting
Change the Mobile Number in the Text Message window to text a different number as needed
Benefits:
Quickly send texts to an alternate contact number

Miscellaneous changes and bug fixes​
Bug Fixes (Disclaimer - Most of these are rare or occur under very specific circumstances and have not affected the majority of our users):

Duplicate Invoice Records in the Sales Purchase Report 

Credit Search page is showing $0 unpaid Credits 

Hide inactive technicians from Technician Tracking Report 
March 2022 Updates
Two-way Texting
Twilio subscribers will now be able to receive response texts from customers.
Benefits:
Easily communicate with your customers from a single location.

Improved look and feel for messaging screens.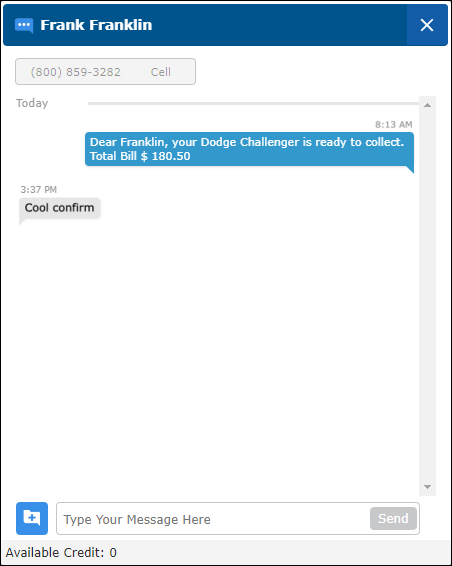 Customer Add and Search
Improved workflow when adding or searching for customers and vehicles
Benefits:
New buttons on the Work screen to quickly add customers and vehicles to a document.

Quick Setup and Quick Search  screens streamline the customer and vehicle workflow.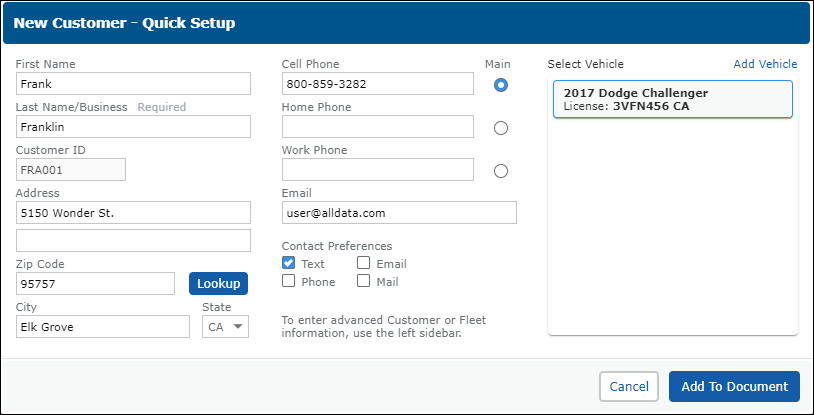 Miscellaneous changes and bug fixes​
Viewing Password on Login Page - There is now now a 'show password' icon on the login page, so you can verify the password typed into the field.

Additional Enhancements:

Forgot Password Screen Updated

Bug Fixes (Disclaimer - Most of these are rare or occur under very specific circumstances and have not affected the majority of our users):

Unable to apply open balance to Invoice

The last digit of the VIN Number is hidden on the Tech Sheet.

WHI Punch out Catalog fails to open when the password contains? or & characters

Unable to transfer alternate parts from WHI

Profit Tracker Report is showing a negative margin

Tire pressure is showing lb-ft units instead of psi on printout

WIP screen not working with certain statuses

Retain Fleet information on Invoices instead of current customer status

Yearly Profit and Yearly Turnover reports fail to display.

Advisory notes on work screen have no break point

Correct transmission code not available in QuickVin results

Invalid payment lines on invoice print

The Sales / Purchase Report is incorrectly assigning national account to old Invoice and Credit

Print preview blank after opening the Edit Message box.

Payment not reflected in invoice balance

Invalid mileage figure by copy & paste causes duplicate ROs that cannot be cancelled.

 Stock Adjustments applying to Cores
August 2021 Updates
ALLDATA Repair Punch-out
Seamlessly navigate to ALLDATA Repair by clicking on the 'Repair' button displayed in the header section of MANAGE Online. 
Benefits:
Get quick access to your ALLDATA Repair subscription from within Manage Online

Reduces the number of time you must select a vehicle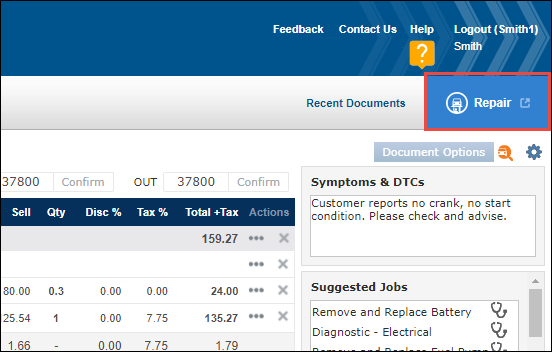 Buy Your Own Texting - Twilio Texting Service
Sign up with Twilio to expand your text messaging capabilities
Benefits:
Create more text messages than our basic texting service previously allowed.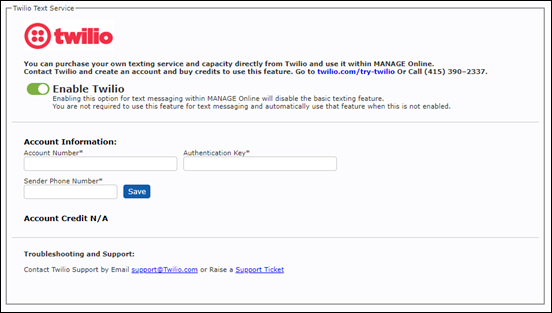 Kukui Integration
Transfer your MANAGE Online customer, invoice, appointment and deferred work data to the Kukui CRM.
Benefits:
Easily gather customer data for enhanced customer communication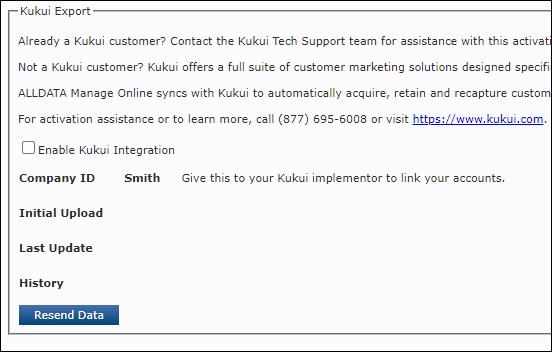 Miscellaneous changes and bug fixes​
Discount confirmation - The display of the Discounts confirmation popup has been updated so that it only appears under the following conditions for an Estimate or an RO document:

If you have set up the discount margin in your settings

A new line item is added to an RO with no discount applied.

Miles and Kilometers data - For all new vehicle records created, the odometer value will be stored as the value entered at the time that the record was created, regardless of the units (i.e. miles vs kilometers). 

Prior to this release, all odometer values were stored as the value in miles.  If you had entered a value in KM, the value was converted to miles, which could result in rounding errors. 

In addition, the odometer value entered is stored against the document. This update is only applicable to new documents; there will be no change to odometer values previously entered in the product.

Search functionality on the the Tire Sales page - On the Tire Sales page, users will now be able to search for Tire parts by solely entering the Part number; the line code is no longer required to find tire parts.

The search functionality will also display results when a partial Part number or partial line code value is entered as the search criteria.  For example, the user can enter the Part description as "Tire 1" or Partial Part description as "Tir" and find all values that include this text.

Transtar catalog update - If your Transtar account has a status of "On Hold", the Transtar Catalog will display the parts list information; however, the part price will be displayed as "N/A". The user can add the part to the work document.

If a user with an "On Hold" account status attempts to order the parts from the work document, the following message will be displayed to the user:

"Your account is currently on hold, likely due to payment issues. Contact support for more information".

Additional Enhancements:

The 'Email' button and email address field have been removed when printing the Tech Sheet from a RO.

The product uses the most current API service for the AutoZone Parts Order functionality.

An Estimate or a Repair Order can only be saved if there is a customer / vehicle information included on the document.  If a document has no customer or vehicle associated to the Estimate or Repair Order, the 'Cash Customer' modal box will be displayed to ensure that the user saves the document with a Cash Customer.

Updated the Transtar catalog functionality to ensure catalog results are displayed for all sub-models.

Bug Fixes:

Recent documents do not show customer's name

KM to Mile conversion issues

Error when searching for tire size. Unable to add tire sales.

Refunds apply to fleet sub account instead of fleet account

An Estimate with no customer and/or vehicle created when the Magnify-glass icon

Update the Estimate document correctly with related Job groups

Partially paid invoices are being marked as Paid in the Sales/Purchase Report

Custom Job Analysis Report cutting off verbiage from the description on the printout

Error Page displays when clicking the Clear link from the Vehicle Inspection page

The Service Interval download Service Schedule form shows UK spelling for Tire

Changing the "Apply Tax before discount" checkbox is affecting the calculated values from the Sales Tax Summary Report

Manage Online Cookie Error page occurs when saving an estimate coming from the Schedule page

Tire Import fails to populate Free Stock field because the Tire File Import and sample tires.csv files incorrectly shows Stock

Paid Invoice is showing as unpaid in sales/purchase report

Invoice Item Margin Report for Margin % is calculating incorrectly

Canada - KM's Changing

No OEM Data For 2003 Chevy Silverado 2500 Diesel Engine

Converted invoices are excluded from all financial reports.

Counter on VHC (for Green Items) Not Calculating Properly
2020 Updates
October 2020 Updates
Updated Data Source for Vehicle Lookup and Parts & Labor Data
Vehicle information is now pulled from our newest version of ALLDATA  Repair (my.alldata.com)
Benefits:
Get the most current and comprehensive parts & labor data

Better vehicle matches for integrated catalogs.

Seamless update - Access new data with no changes to document creation workflow.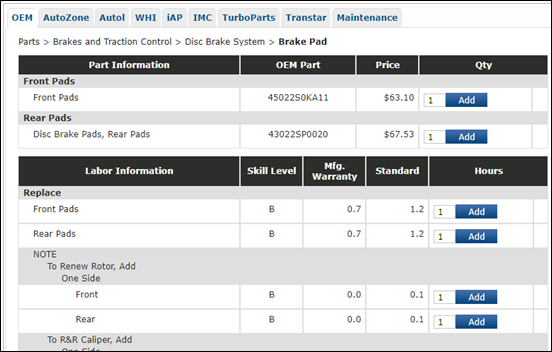 Full Width Document Printouts
Option to print documents with minimized white space
Benefits:
Choose between 2 print layouts.

Use less paper.

Documents included: Estimate, Repair Order, Invoice, Invoice Draft, Credit Note and Schedule of Work.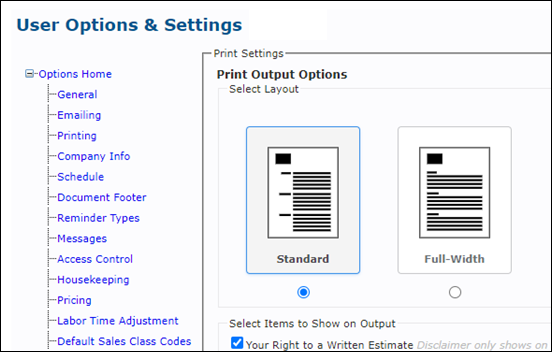 Transtar Integration Update
Updated Integration to Work with Transtar's Latest Catalog Version
Benefits:
More Information

Better Performance
Please note the following differences:
Existing Transtar account credentials will need to be updated before using the catalog. Please contact Transtar directly in order to get set up with a username and password. 

Transtar parts added to Custom Jobs may not be included in the same parts category as the previous catalog version and may need to be reselected.

Part availability will now display as a service option inventory level (next day, 1-3 day, etc.) instead of location based inventory level (branch, region, etc.)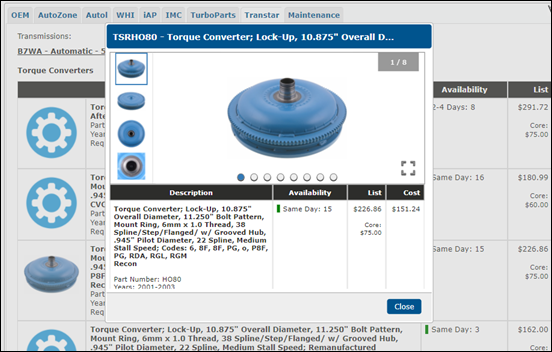 Miscellaneous changes and bug fixes​
The last 8 digits of a VIN are now bolded in the following areas:

VIN field of the Vehicle section on the left side bar

The myCARFAX tab (under Reports >> Work History Report)

The License/VIN Lookup field, in the vehicle section in the left pane, has been limited to a maximum of 17 characters

The Error page that appears when an unhandled event occurs has been updated.

The existing Adobe control used for graphing has been replaced with Apex Charts in the following business reports:

Turnover by Customer Type Report

Turnover for Top 10 Customers Report

Yearly Turnover Report

Yearly Profit Report

Resolved Issues:

Unable to resolve Opening Balance against an Account Payment

Technician and Service Writers on work screen are not sorted

The RO Printout is displaying incorrect Proposed Completed Date when due time set to 12:00 through 12:55

Hide the segments of Labor hours/quantity in Print Outputs section

Incorrect spelling is being used in the Print Settings page.

Invoice Shop Supply Total (Misc.) is incorrect in the Sales by Service Writer Report

Labor displaying in Count and Adjustment Inventory Screen when the Stocked Parts Only checkbox is checked.

Comma can be pasted into Warranty mileage.

Password cannot be similar to the Username 

Business Analysis reports have different totals

Split Invoice outputs do not reflect deductible amount in total if Complete Price custom jobs exist on the document

No validation for Product Group value on the parts import

Incorrect word used for "Clear document when Work Order created" checkbox.

Technician field fails to populate in the Paid Invoice page once Invoice Confirmation closes.

The Vehicle Detail print out shows misspelled words and UK localized word.

Incorrect Wording in Error message for AR Payments page

The Authorized Contact is printing twice on the document printout.

Localization spelling issue with the title on the RO Authorizer window.

Incorrect Car ID being used for some custom jobs containing OE groups.

When a Deposit made through PayGuardian, the deposit is not seen as PayGuardian transaction

Unable To Pay Invoice under certain situations

Incorrect value of KM when Invoice printed from Document Options
July 2020 Updates
Sales Payment Screen
Refreshed Sales Payment screen
Benefits:
Quickly view and pay outstanding balances for a customer

Automatically allocate payments and credits to outstanding balances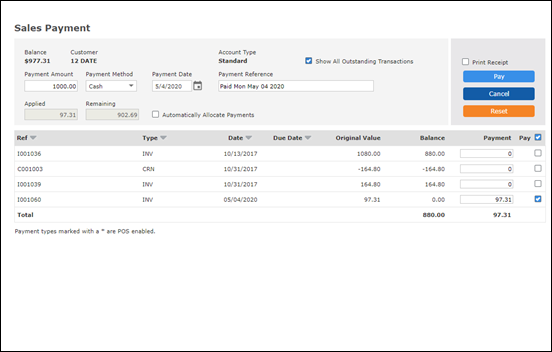 Worldpay
Worldpay credit card processing is now integrated with Manage Online
Benefits:
Process credit card payments directly from Manage Online

No additional applications need to be installed
See Worldpay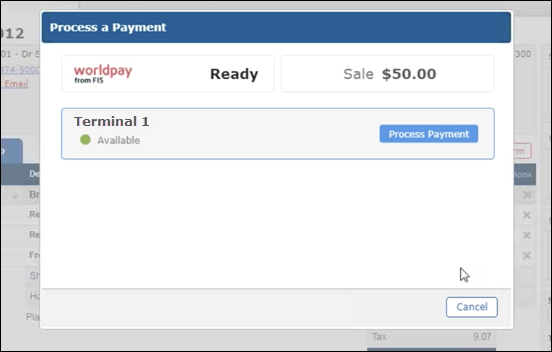 Vehicle Tags
Vehicle Tags can now be used instead of Key Tags
Benefits:
Quickly create new vehicle tags from the work screen

Vehicle tag history is stored with the document
See Setting Up and Using Key Tags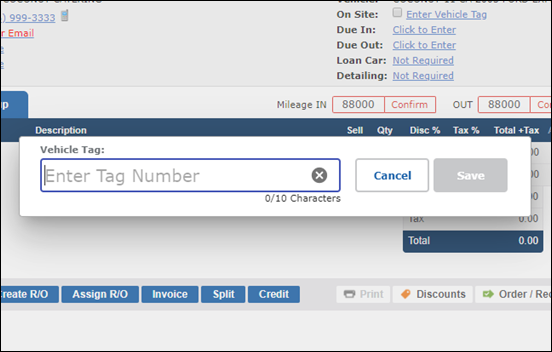 Usability Improvements
Customer search via Phone Number

New Document and Print button dropdown options

Due Out Date field now always visible

Print Document or Tech Sheet directly from RO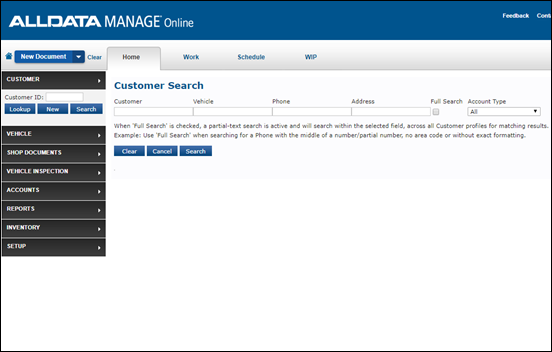 Miscellaneous changes and bug fixes
You can now specify Technicians and Service Writers as inactive

Manage Online will now identify when the Quickbooks Online tax calculation feature is enabled and prompt to continue with the export.

Sales receipt format has been updated.

Tech sheet now properly displays item count for special custom job types.

Additional options added as dropdown menus for New Document and Print buttons.

Repair Order search can now be searched by technician or service advisor.

Setting to hide discount column on documents until a discount is present has been added.

Repair Order Search can now be filtered by cancelled documents and searched by technician or service advisor.

Document Search default value for "Optional Criteria" can now be changed in settings.

ATD contact email address has been updated.

Tax column on paid invoice will now display for every job with part and labor items.

Reports no longer print "local data and time" text.

Addressed issue selecting vehicles in catalog with "!" in sub model.

Inspection report language update.

Cancelling invoice process with outstanding ordered parts no longer locks the document.

Clone job no longer cuts off job names at an ampersand.

Work descriptions for deferred jobs now removed from RO details in scheduler.

Customer ID for opening balances no longer case sensitive.

Question marks in Customer ID no longer cause deferred jobs to display incorrectly.

Line items with hours worked can no longer be hidden.

Delete action now pops up with correct options.

Cancel button no longer disabled buttons on RO screen.

Resolved error when invoicing with payment terms set up.

Exports of vehicle work reports no longer result in an error.

Deferred jobs no longer disappear if a license contains "#".

Apply tax before discount option no longer causes historical invoices to display incorrectly.

Work description and work performed lines can longer be deleted on ROs that have been completed.
2019 Updates
September 2019 Updates
Search vehicle by VIN
Quickly look up a vehicle record with a VIN or license number
Benefits:
Additional flexibility for vehicle/customer lookups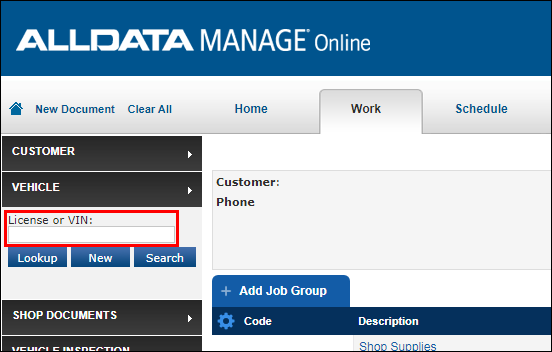 Kilometers
Kilometers can now be set as the default odometer type
Benefits:
No longer necessary to manually set new vehicles to KM.
Go to Setup >> General to change settings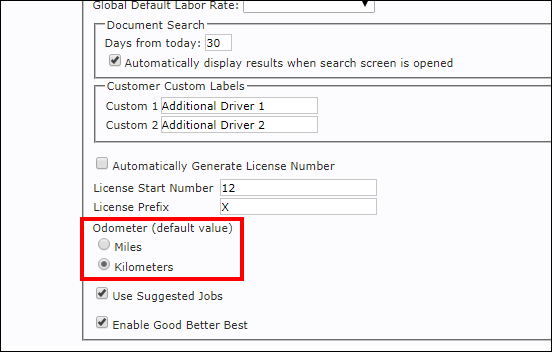 QuickBooks Online
Payment methods can be linked to the payment methods in QuickBooks
Benefits:
Payment methods selected in Manage Online can carry over to QuickBooks automatically

No longer necessary to manually adjust payment method records in QuickBooks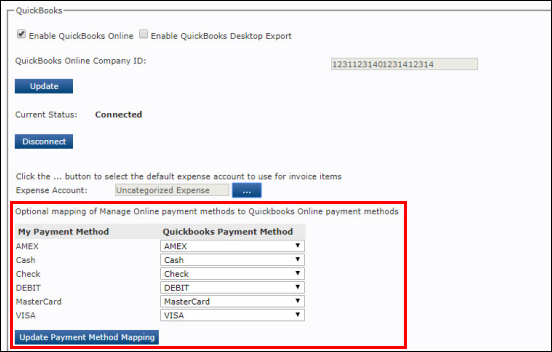 Miscellaneous changes and bug fixes
Selected vehicle automatically gets added to special instructions when ordering from the AutoZone Catalog.

Consolidate lines on printouts now hides extra columns on printouts (units, qty, discount, etc.)

Recent Documents totals now include tax.

Delete warranty info from RO

Option to make customer order number required

Option to set default payment terms for all customers

Credit split invoices

Nexpart Catalog now shows 0 stock when item is unavailable to order.

ATD Catalog API version updated

QuickBooks SDK and OAuth service update

Additional logging for QuickBooks related errors
May 2019 Updates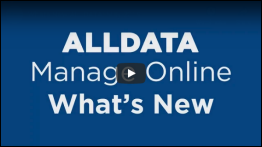 Updated Work Screen
Refreshed the Work screen with a more modern design
Benefits:
More intuitive workflow

Additional display customizations

Better utilization of screen space
See Updated Work Screen Layout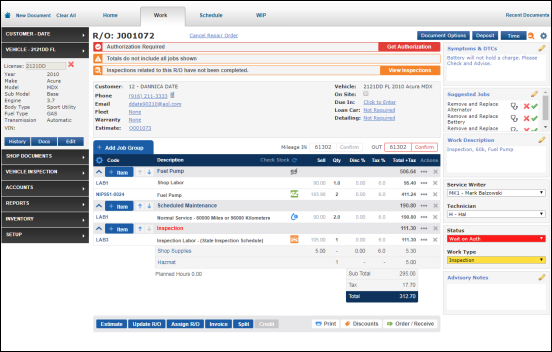 User Account Management
Updated password change and recovery processes 
Benefits:
View and change multiple users' passwords and recovery emails from a single page

Easier to identify password requirements

Enter your username or email on file to send a reset email

Usernames are now retrievable via password reset email

New look and feel
See My Account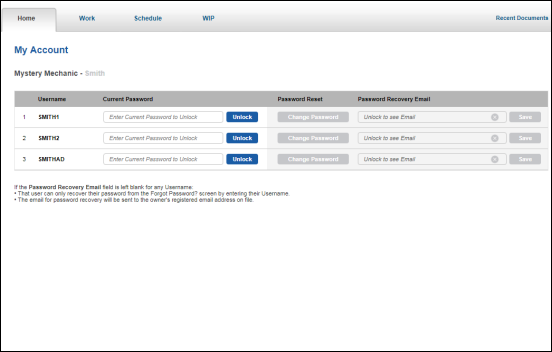 Miscellaneous changes and bug fixes
Parts markup is now applied to new parts added from the Inventory Parts screen

Login / prelogin splash screen design update

First time login now allows for one time only username change

Company ID now displayed in upper right corner

You can now start an Inspection without having to add a symptom beforehand

Separate deductible line item now displays on print out if a deductible is applied to a split invoice

PaySafe Signature Capture is now supported

Line discounts now calculate correctly for tax exempt customers

Estimate notifications no longer cut off with large font-size / character counts

Estimate and RO Printouts show correct calculations when a job is hidden

Tech Worksheet does not display work description if job is hidden from print

Invoice Draft printout total label changed to 'Invoice Draft Total'

Customers with spaces in their last name are searchable

Deferred Job line items no longer duplicate when printing

Manage spelled correctly on email

Document Options menu displays correctly

Deferred work displays correct customer name in printout

When re-invoicing after a credit, if crediting the 2nd time, the Credit Note page is no longer flagged as a split invoice

Cookie error no longer displayed when searching TIR in the part number field of the Tire Sales Page

When using the red "X" icon box to delete the line item added from the Document Job Group section, the Delete Selected button is now disabled

Cookie error page no longer displayed when the Tire Extra Code field contains spaces

Additional messaging for Rim Size Price Matrix when Tire Fee Checkbox is is selected

Additional messaging when retrieving inspections

Deferred job no longer lose line items under certain circumstances

Update technician sheet with model / sub-model of vehicle

Time stamps for payments and authorizations no longer display incorrect time stamp under certain circumstances

Quick Edit popup Apply button now displays as Update
2018 Updates
November 2018
Updated Inventory Parts Screen
Streamlined process to add parts to an invoice or inventory
Benefits:
Easier to locate and add inventory and non-inventory parts

Line codes have been separated from part numbers

Add parts to a document without adding to inventory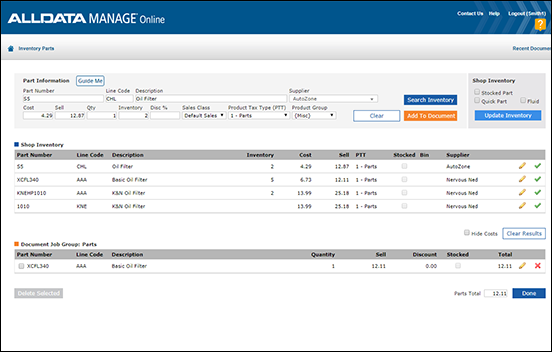 Revised Report Search Layout and Sorting Options
13 reports have been updated with a new layout and added sorting functionality
Benefits:
Search options are easier to distinguish

Easily sort search results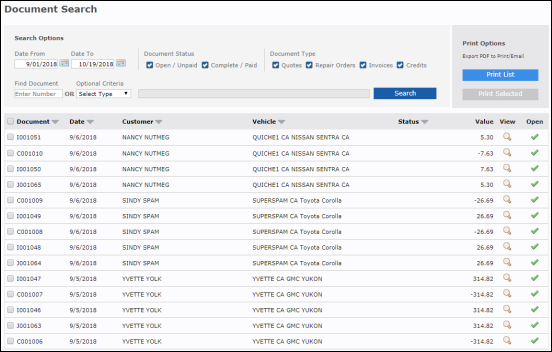 Recent Documents List Enhancements
Recent documents list redesigned to include sort options and display more document info
Benefits:
Quickly access recent documents

Better identification of documents

More records available to view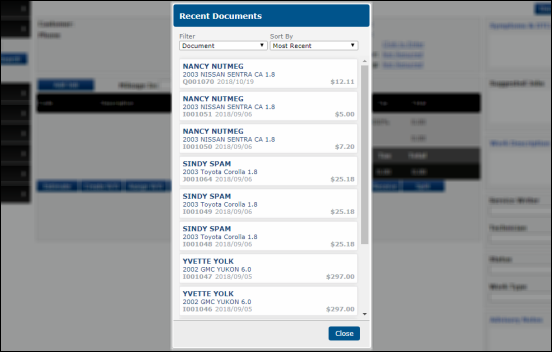 Work Screen Settings and Layout Customizations
Select which elements to display on the work screen
Benefits:
Reduce screen clutter by removing unused items

Maximize screen space
See Customizing the Work Screen Layout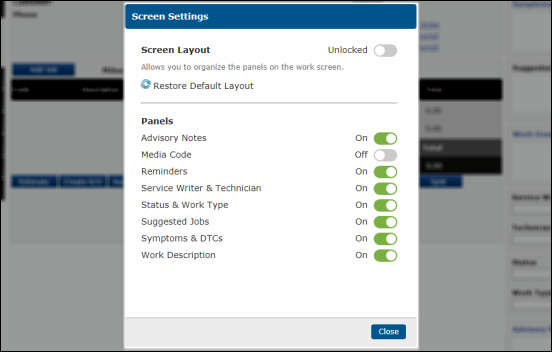 Tire Fee Matrix
Set up multiple fees to be applied automatically
Benefits:
Apply fees to tire sales based on rim size
See Setting Up the Tire Module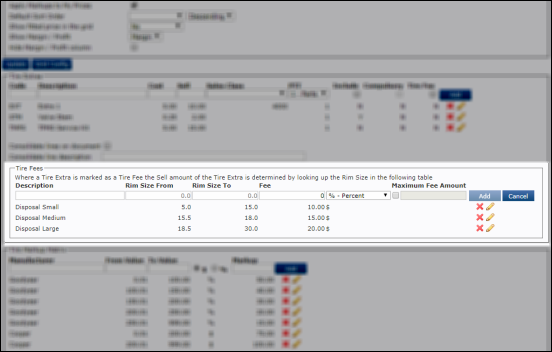 Miscellaneous changes and bug fixes
Inspections banner for incomplete inspections and updated icon

Revised Technician Worksheet print layout

Customizable label for "Symptoms and Diagnostic Trouble Codes" and "Supply/Hazmat fee Comment" on printouts

Default contact method can now be set

Media Code section added to Work screen

Option to make Media Code mandatory 

Inspection Report Notifications will appear on Work screen if an associated Inspection has not been completed

Account Code has been renamed to Product Group 

Meritcard is now PaySafe

Tax Rate allows up to 4 decimal places
June 2018 Updates
Bug fix improvements
When a Repair Order contains a Work Description at the Job Level, a discount can be applied using the Discounts page.

We display all parts in a Part Category for a catalog accessed through NexPart on the results page – even when one or more parts contains only partial information.

Fixed the error that appeared in the Scheduler when an appointment was added.
May 2018 Updates
Core Charges
Apply core charges and track core returns
Benefits:
Minimize lost revenue from unreturned cores
See Setting Up and Using Core Charges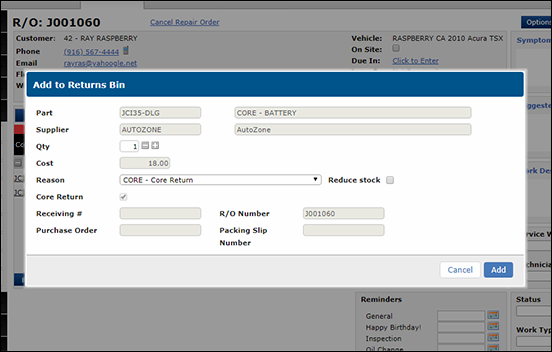 Streamlined Part Returns / Returns Bin
Add parts to a return bin to process later.
Benefits:
Easier to keep track of pending returns 

Less interruption of daily workflow

Process multiple returns at once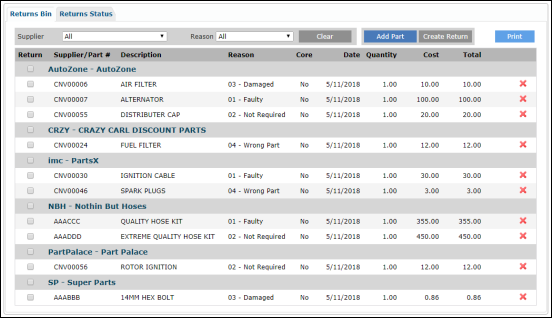 Miscellaneous changes and bug fixes
Restore previously deleted Inspections

Language changes

Vendor >> Supplier

Advice Note >> Packing Slip

GRN >> Receiving #

Split Invoices no longer display as negative on Sales Tax Report.

Inspection Status now retains value when promoting estimate to RO.

User names longer than 20 characters are no longer allowed.

You can now switch back and forth between Custom Jobs and Parts Pages.

Suggested Order now functioning properly.

Typing Invoice number in Detail field of Sales Payment Entry page no longer results in error.

Filter is no longer lost after adding a job and clearing the search text.

Work Description from hidden jobs no longer displays on Tech Sheet print.

Creating a customer account with a space in name no longer reults in error.

Searching for a customer and vehicle detail now populating the car side panel.

Now only one Inspection result displayed per job in the Inspection search screen.

Invoice printout from previous advice notes updated.

Now able to enquire on catalog parts after adding lines to document from work history.

Help files text updates.

Entering in a Work Description with a very long description against a custom job no longer results in error.

Special characters no longer allowed in Reference field.

Sales Tax Summary Report with Non Taxable Fixed Priced jobs no longer showing as taxable.

Deleting Inspection list no longer results in errror.

Quick Edit popup window no longer showing Part Audit button for labor lines.

Updated text on Tech Sheet.

Table no longer duplicating record entries when job is moved between bays in Scheduler.

Update URL for WHI catalog.

Stock adjustments when deferred jobs added to document have been corrected.

CarFax - Resolved Intermittent error resolved when clicking Invoice.

Fixed Technician page grid when clicking edit in Google Chrome.

Adjusted Work Description spacing on Printed Documents.

State abbreviation value is now retained after creating a customer from the Scheduler.

Inspection Labor lines created from the State Inspection Schedule display on the Labor analysis report.

Items no longer showing multiple times in the Invoice Item Margin.

Having a reminder called Deferred Work or Appointment no longer causes error when accessing work document if vehicle has the reminder assigned to it.

Product importer will now update an existing bin location.

Previous customer details no longer being remembered in Google Chrome.

Items no longer doubled on Invoice Item Margin Report after splitting Invoice.

Output previous mileage on invoice history export instead of current mileage value when invoiced.

Printing an invoice when the customer no longer exists does not result in error.

AZ Catalog now returns parts if multiple qualifiers are required at the same time (e.g. snow chains).

Transtar catalog changed from HTTP to HTTPS security.

Purchase Credit taxes now display consistently.
February 2018 Updates
Customizable Printouts
Add or remove sections from printed documents
Benefits:
Less clutter on print outs

Save paper and ink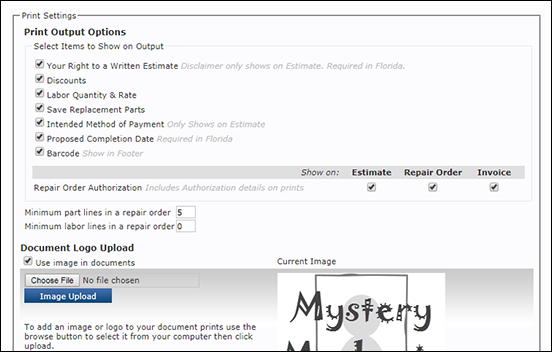 Good Better Best Jobs
Display 2-3 variations of jobs in order to offer pricing tiers for customers to select
Benefits:
Upsell opportunities for additional parts and services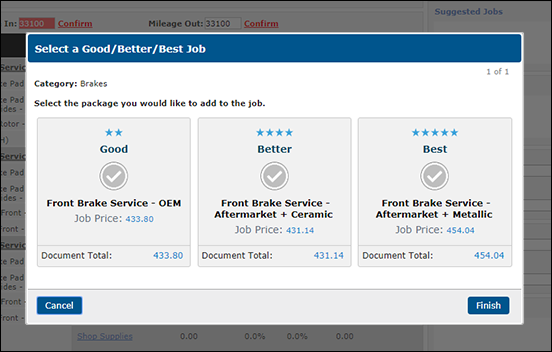 Labor Time Adjustment
Automatically adjust catalog labor and maintenance times for different account types
Benefits:
Make consistent adjustments to labor times for different customers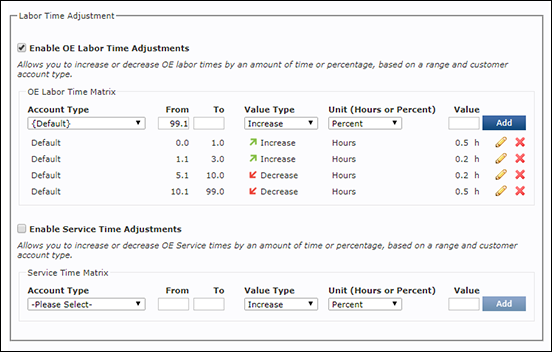 Miscellaneous changes and bug fixes
Added Year to Vehicle License Identifier on Work Screen and Vehicle List

Fleet company saved against the Invoice for reprints

Can no longer create RO Authorizations for a future time

Fixed issues with Nexpart auto filter

Shop Supplies now apply properly when a Repair Order is created using schedule

Converted suggested jobs no longer appear on invoice screen

Fixed inactive Paid icon on Invoice search screen.

Invoice Mileage In no longer remains highlighted red on paid invoice

Mileage no longer changes when creating a job for KM vehicles

Address Line 1, 2, 3 for Customer and Company now display on printed documents

Performance enhancement for browser Memory usage
2017 Updates
Aug 2017 Updates
Updated Print Layout for Work Documents
Estimates, Repair Orders Invoices and Credits have been updated with a more clean, legible more professional look
Benefits:
Better organized work on printed documents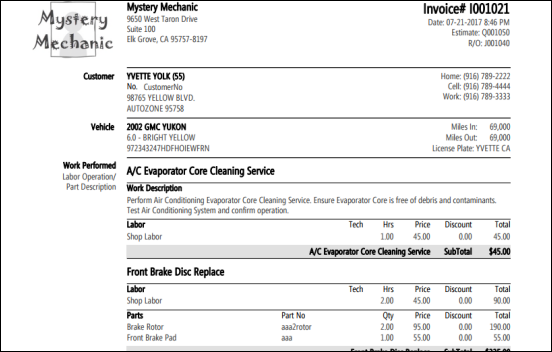 Enhanced Menus
Redesigned Symptoms, Work Descriptions and Advisory Notes menus
Benefits:
Streamlined predefined text section makes it easier to locate view and view required items from the menu

Filter predefined text by keyword

Assign selections to a specific job or to the main document

Increased character count of Summary field to 30 and Description field to 1000 characters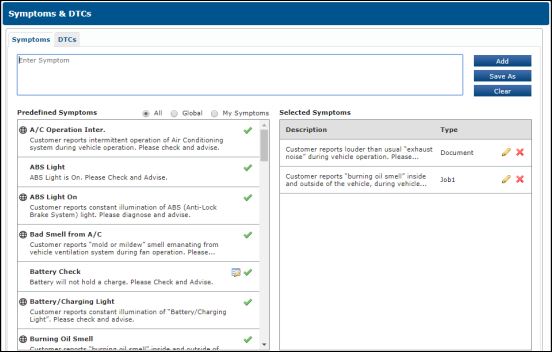 Work Performed
Include Work Performed notes with each job
Benefits:
Quickly see technician's notes that are applicable to a specific job
See Adding Work Performed Notes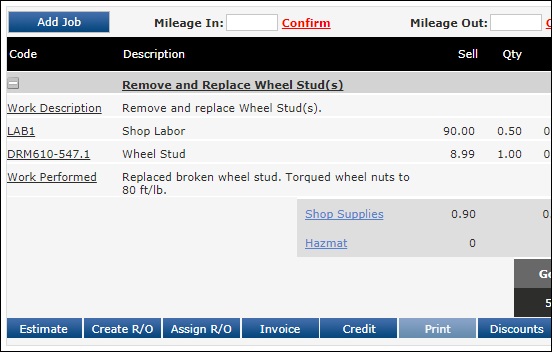 New Reports
Sales by Job Category, Value of Recovered Work, and Value of Suggested Work reports have been added
Benefits:
See what types of jobs you are are completing to aide with business decisions like hiring, tool or inventory, purchasing etc

Keep track of the declined jobs that are returning to you

View the amount of work that has been upsold
See General Reports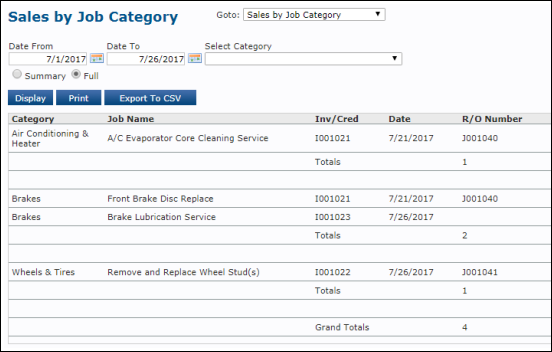 Miscellaneous changes and bug fixes
Ability to clone jobs at the work document added

Ability to hide a job from the work document / printout added

Custom Jobs report improvements

Fleet Owner Notes can now be added from the Fleet Details popup

Quick Parts search filter added
May 2017 Updates
Enhanced Message Tracking
View and track messages sent through the Customer Relationship Manager
Benefits:
See at a glance who you have contacted recently

Quickly identify who needs to be contacted

Easily access communication history
See Sending Messages to Customers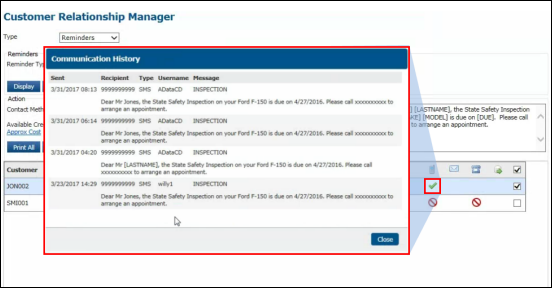 Miscellaneous changes and bug fixes
Customer email now auto-populates on print preview screen

Credit Note checkboxes on Complete Price jobs can no longer be checked

Deferred Work no longer displays duplicate entries

Deferred Work retains cost price of catalog parts

Time Tracking now saves data correctly on labor lines with special characters in the description. 

Technician Code displays for each Work Document on the WIP screen.
March 2017 Updates
Complete Price Custom Jobs
New Custom Job Price Type!
Benefit:
Create menu or promotional priced Jobs with fixed sell prices to accurately report taxes, Parts and Labor sales.
See Creating and Editing Custom Jobs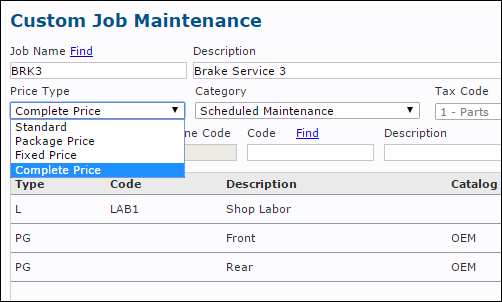 Job Categorization
Categorize Job Groupings from the Work screen!
Benefit:
Classify Job Groupings from a list of common part/repair categories.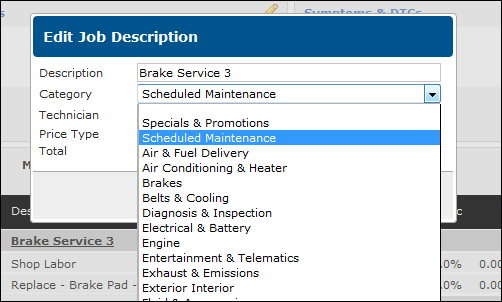 Miscellaneous changes and bug fixes
Default Labor line can now be deleted from Package Price Custom Jobs if another Labor line is present. 

Package Price Icon no longer shows for Package Price Jobs.

"Inspection Schedule" has been renamed "State Inspection Schedule"

Custom Job Type is now identified in the Job Description window.

WHI Catalog now displays multiple locations when main branch is out of stock.

Split Invoice print out now shows Symptoms, Advisory Notes, Service Writer, Work Type, Mileage Out and DTCs.

Custom Jobs Filter now filters by all words in the Custom Job description, within the selected Category.

"Repair Order Email Message" now sends with all emailed Repair Orders.

Order values on the "My Orders" screen now correctly display. 

"Forgot Password" function now operates as designed. 
2016 Updates
December 2016 Updates
Suggested Jobs
Suggest Custom Jobs that can quickly be applied to the Work Document.
Benefit:
Create documents faster with access to commonly used Custom Jobs directly from the Work Screen.
See Adding Suggested Jobs.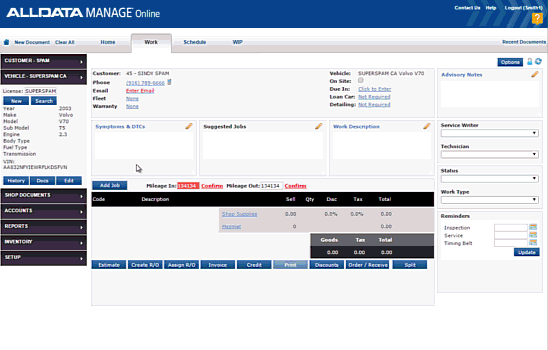 myCARFAX Customer Signup
The myCARFAX Customer Signup Button lets you easily enroll your customers in the FREE myCARFAX customer loyalty program and sets your shop as their Favorite.
Benefits of myCARFAX:
Increase customer loyalty through myCARFAX service reminders (app and e-mail) that direct customers back to your shop.

Reach new customers with a listing and coupon in the myCARFAX service shop finder.

Save time and improve accuracy with the myCARFAX QuickVIN product, which translates license plate numbers into VINs.

Make better service recommendations, drive more revenue and view service history from multiple shops with myCARFAX Service History Check.
See Enabling and Using myCARFAX.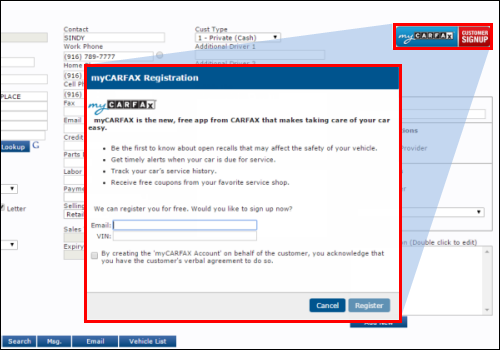 Miscellaneous changes and bug fixes
Updated Inspection Scheduler.

Inspections can now be added directly from the Inspection Schedule.

Time slots can now be named.

Additional Global Custom Jobs added.

Enhanced VIN recognition integration with IMC catalog.

Modifications to external WHI catalog to utilize new search and part lookup functionality.

ACES vehicle list update to include 2017 model year, additional Makes and heavy duty trucks.

ZIP Code database enhanced to allow City selection if ZIP code includes multiple cities.

70 new Global Custom Jobs have been added.

35 new Global Symptoms have been added.

These Symptoms are tied to Custom Jobs as Suggestions.
November 2016 Updates
American Tire Distributors (ATD) Integrated Catalog
Search and add Tires directly to your Work document!
Benefit:
Search over 40,000 tires by Tire Size or Year, Make and Model information!

Fast shipping from 140 distribution centers across US/Canada.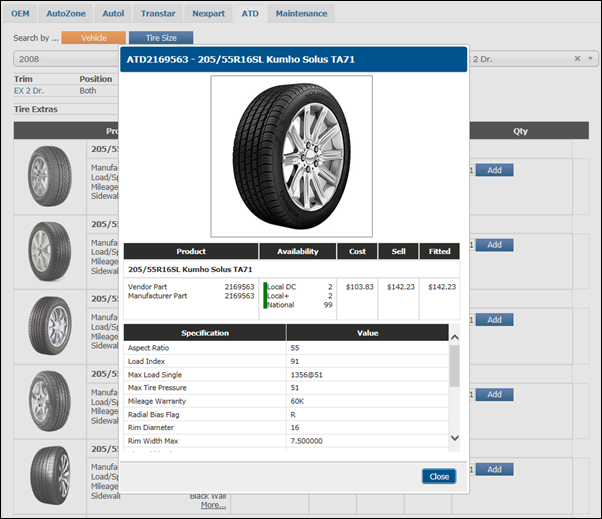 "No License Plate" Feature
Automatically generate a "License Plate" as a placeholder, when there is none.
Benefit:
Valuable when creating vehicles that are not currently registered.

Change the vehicle license plate at any time!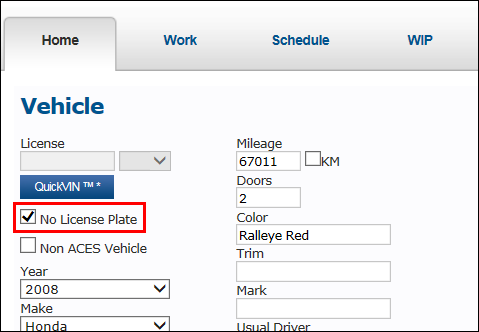 Customer # Field on Work Screen
The Customer # Field now appears on the Work Screen!
Benefit:
Quickly view the Customer #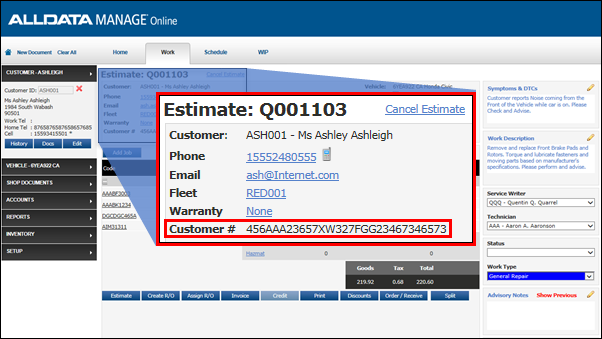 Additional In-Product Step-by-Step Guidance
Click the orange ? icon to open a list of options: 
Benefit:
GPS-like guidance for:

Slideshow of newest features

Ordering and Receiving Parts

Tire Inventory Settings

Entering Parts

American Tire Distributors (ATD) Catalog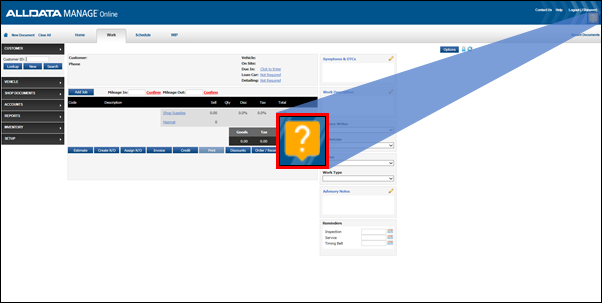 Miscellaneous changes and bug fixes
Parts Inventory Import Instructions and Sample Spreadsheet updated.
August 2016 Updates
Custom Job Enhancements
New Custom Jobs screen and Package Jobs type.
Benefits
Easily create and maintain Custom Jobs.

Create specials for your shop using Package Jobs.

Access Global Custom Jobs.
See Creating and Editing Custom Jobs.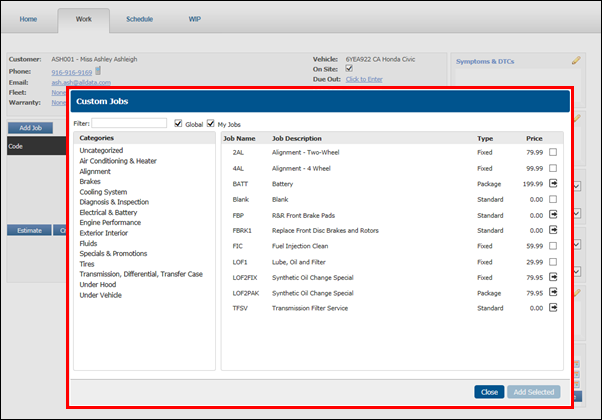 Fleet and Warranty Options
Create and manage customers and documents for warranty and fleet vehicles.
Benefits
Create fleet accounts.

Split invoices between customers and warranty-providers.
See Adding and Invoicing Fleet Vehicles and Adding and Invoicing Warranty Jobs
Customizable Work Screen
Rearrange and resize sections on your Work screen.
Benefits
Drag and drop sections of the Work screen to structure your workflow to meet the needs of your shop.

Adjust the Work screen options to fit your monitor size.
See Customizing the Work Screen Layout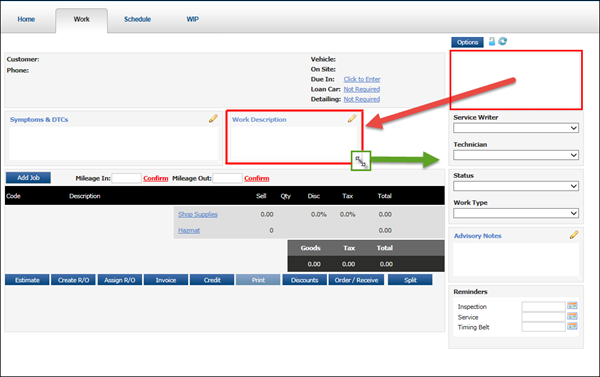 Customer # Field
Add a Customer number to each Customer account.
Benefit
Keep track of a membership number or any other identifier.

Customers can be searched for by the Customer number.
See Adding Detailed Customer and Vehicle Information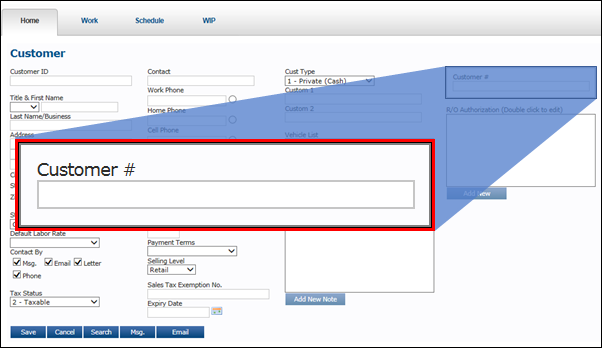 Additional In-Product Step-by-Step Guidance
Click the orange ? icon to open a list of options: 
Benefit:
GPS-like guidance for:

Slideshow of newest features

Custom Job Enhancements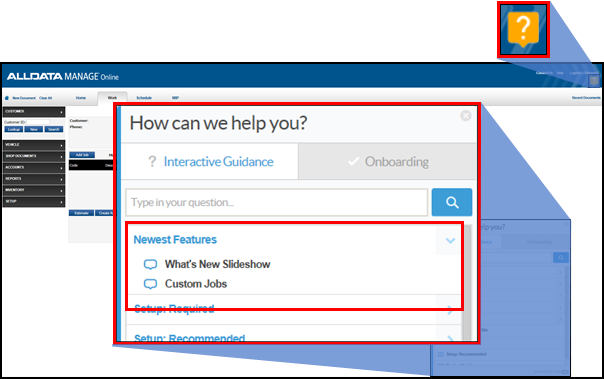 Miscellaneous changes and bug fixes
VIN is now visible from the Work screen (if available).

Key Tag character limit has expanded from four to ten.

Filter added when assigning Key Tags to a vehicle on the Work screen.

Work descriptions no longer display multiple times on Repair Order drafts for Canadian users.

Type font has been standardized.

Correct city can now be chosen when ZIP codes contain multiple cities.
June 2016 Updates
WHI/Nexpart Integrated Catalog
Now available in Manage Online!
Benefits
Quickly search parts and check availability by accessing electronic parts catalog inventory from vendors all over the country.

Easily add parts to the Work document with integrated electronic parts catalogs!
See Using the Parts and Labor Catalog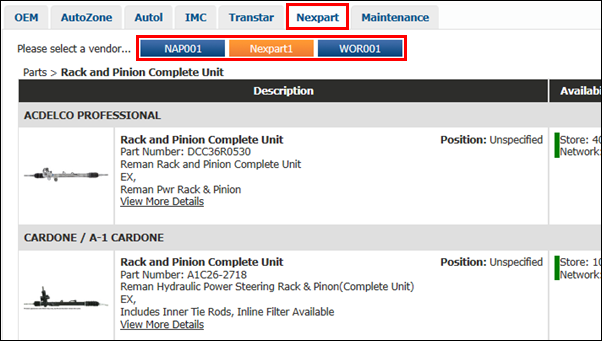 Transmission Information Fields
Added detailed information fields that further identify the vehicle's transmission.
Benefits
Filters results faster when using the Transtar Industries electronic catalog.

Save additional transmission information that can be used to better identify the vehicle when purchasing parts.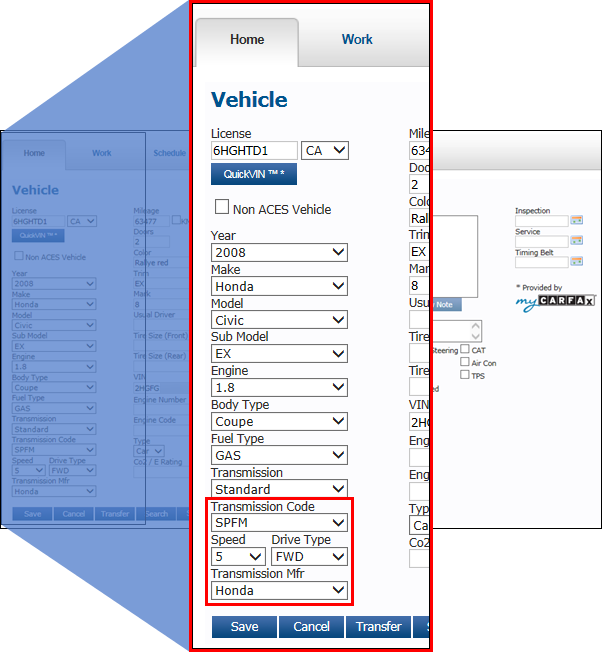 Additional In-Product Step-by-Step guidance
Follow the in-product prompts to easily learn how to create a Work document.
Benefit:
GPS-like guidance for:

Adding Customers and Vehicles

Adding Symptoms, DTCs, Work Descriptions, Parts, and Labor to a Work Order

Creating an Estimate, Repair Order, or Invoice
Miscellaneous changes and bug fixes
"Licence" spelling is corrected on printed estimates.

Sales tax report now prints complete document number.
March 2016 Updates
Technician Cost & Time Tracking
Enter and track the technicians' hourly rate and the actual time worked per task!
Benefits
Use reporting to determine wages and efficiency.

Track how long technicians are actually working on a job.
See Tracking Technician Cost and Time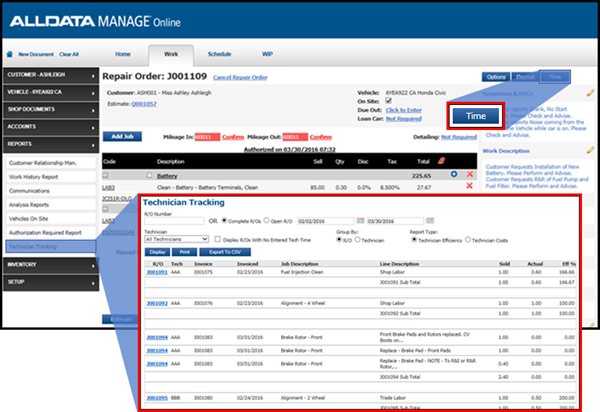 Automatically Search Integrated Catalogs When Using Custom Jobs
Immediately go to the part you need in the integrated catalogs when applying Custom Jobs to the Work document.
Benefits
Saves time by automatically going out to the integrated catalog.

Select from integrated catalogs such as AutoZone and the Transtar Industries Catalog.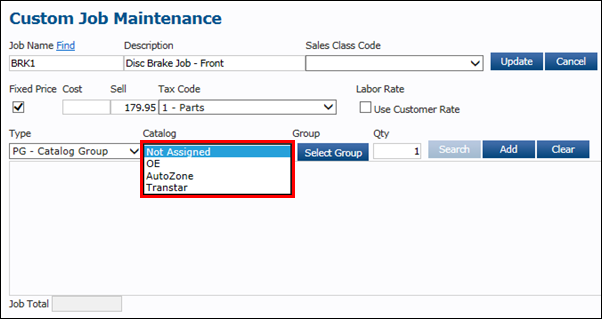 Note: Setup is required. See Creating and Editing Custom Jobs.
In-product step-by-step guidance
Easily follow the in-product prompts to complete all required, recommended and third-party setup requirements.
Benefit
GPS-like guidance for quick and easy setup.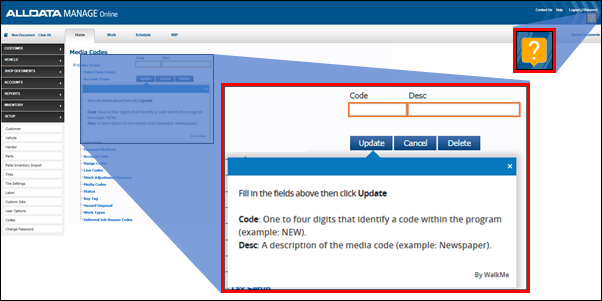 Miscellaneous changes and bug fixes
Invoice Draft button now appears on Invoice Confirmation screen.

Invoice, Credit and Payment data now exporting to QuickBooks Online.

Discounts now add to a new Job Grouping on the Work document.

Custom Job Maintenance screen is rearranged for a better experience.

Improved look to Electronic Catalogs.

Manually resend data to Intuit Demandforce and MechanicNet. 

Time printed now added to Tech Sheet.

Deferred work now stays with vehicle when changing license plate.

Labor analysis report now displays Technician information.

Updated example template when importing parts inventory files.

Sales Tax Report now showing accurate information.
January 2016 Updates
Work In Progress Screen
View the status of all Repair Orders from one screen!
Benefits
View the progress of the work in your shop at a glance.

Create and customize multiple Work in Progress views.
See Setting Up the Work in Progress Screen and Using the Work in Progress Screen.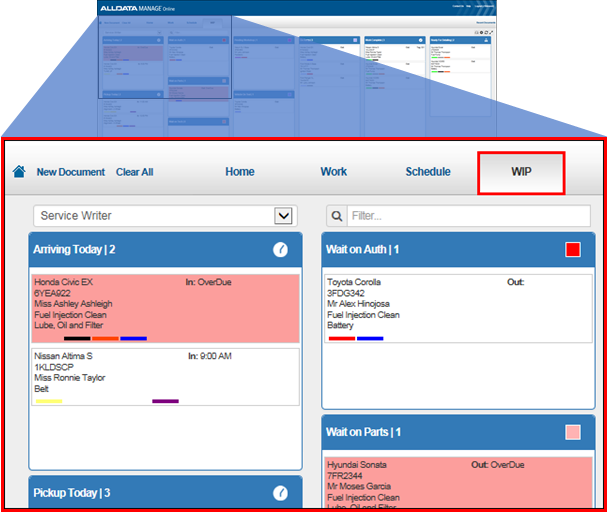 Transtar Industries Electronic Parts Catalog
Look up and purchase transmission parts in Manage Online!
Benefits
Access Transtar Industries comprehensive catalog of transmission parts.

Save time by ordering and receiving parts in Manage Online.
See Using the Parts and Labor Catalog and Ordering and Receiving Parts.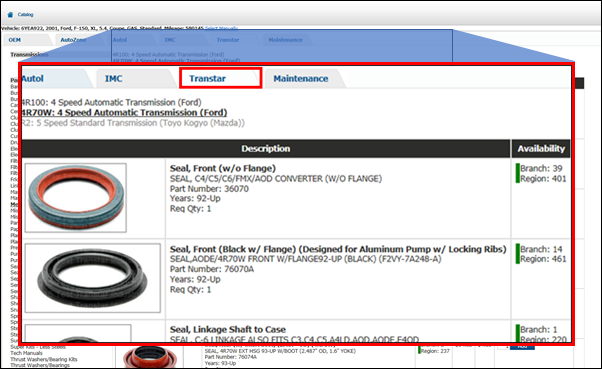 Loan Car and Detailing Information
Indicate a Loan Car has been issued and include Detailing information for the vehicle from the Work screen!
Benefit
Keep track of Loan Car and Detailing information on the Work document.
See Applying Loan Car and Detailing Information to the Work Document.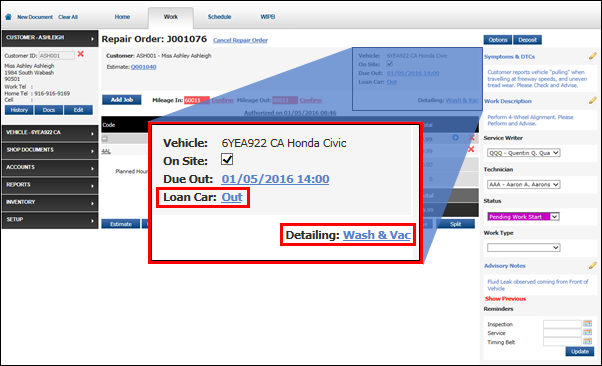 Miscellaneous changes and bug fixes
The date the myCARFAX data was last processed and successfully sent now appears on the myCARFAX setup screen.

Name of service writer now appears on the Invoice Confirmation screen.

Volkswagen engine selections in electronic catalogs now appear.

Opening Balances data now exports to QuickBooks Online and QuickBooks Desktop Export.

Codes are automatically entered in upper case when adding DTCs to Work documents.

Now able to select Tax and Net amounts separately when creating a Split payment.

Purchase Invoices can now be viewed Accounts Payable.

Correct time now appears in R/O Authorization popup window.
2015 Updates
November 2015 Updates

Integrate with QuickBooks Online!
Benefits
Export invoice, credit, and accounts payable data directly without creating an .IIF file.

Access QuickBooks Online in both the United States and Canada.
See the QuickBooks support articles to learn more.

Integrate your customer database with MechanicNet, an automated marketing and website development service for small businesses.
Benefits
Create a website, customer messages, and reminders.

Manage social media.
See Integrating with MechanicNet to learn more.

Securely process card payments online with MeritCard Solutions using PayGuardianWEB.
Benefit
Save time by processing secure credit and debit card payments from the invoice confirmation screen.
See Enabling and Using MeritCard Card Processing to learn more.  
DTC Lookup
Define DTCs (Diagnostic Trouble Codes) and add them to the Work document.
Benefit
Quickly define, save, and print DTCs and their definitions on the Work document. 
See Adding Symptoms, DTCs and Work Descriptions to learn more.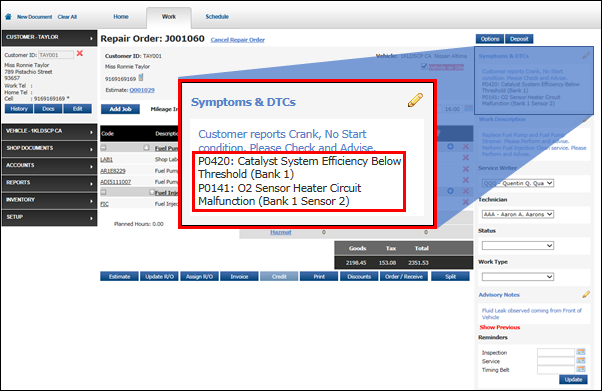 Markup Calculator for Parts and Labor
Apply suggested markup pricing to parts from the Work document.
Benefit
Save time by applying suggested markup pricing from the Quick Edit parts information while on the Work Screen.
Miscellaneous changes and bug fixes
Deferred work no longer appears as an Inspection when applied to the Work document.

Search filter function added to Vendor Setup screen.

Customer email address now appears in email field when printing and sending Repair Orders.

Vehicle Sub Models only available in Mexico will now show in Vehicle Selector.

IAP catalog search is now working.

Refund option now available for deposits.

Reminder dates now appear on the Work document.

Markup pricing will now appear on the Order/Receive screen.

myCARFAX Service History will now look up information when VIN is entered in lower case.

myCARFAX terms and conditions link now opens to new URL.

Deposit information is now displayed on printed Estimates and Repair Orders.

Correct tax codes are now applied when adding information on parts.

Demandforce exports are working correctly.

Date, Method and the Amount of deposits now display on printed Invoices.
September 2015 Updates

Access myCARFAX shop tools and activate your myCARFAX shop listing!
Benefits
Look up the complete 17-digit VIN from a license plate using QuickVIN™.

Get access to exclusive CARFAX service history using Service History Check™.

Let your customers know that they can track their service history with your shop and get maintenance reminders. 
See Enabling and Using myCARFAX to learn more.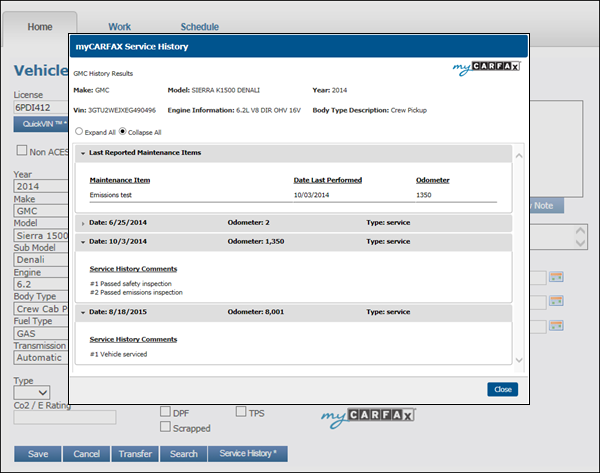 Integrate your customer database with Intuit Demandforce, an automated marketing service for small businesses.
Benefit
Send personalized reminders, coupons, invitations, newsletters and online surveys to your customers.
See Syncing with Intuit Demandforce to learn more.
Improved ACES Vehicle Search
Now includes Sub Model section in vehicle information.
Benefits
Select a Sub Model to better classify vehicle information when searching the electronic parts catalog.

Search electronic parts catalogs for vehicles 2012 and newer. 
See What Does ACES Mean? to learn more.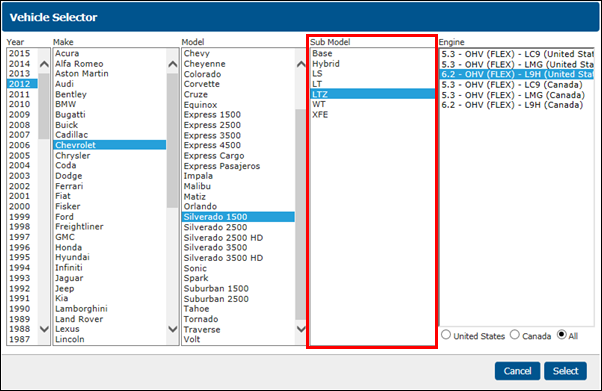 Miscellaneous changes and bug fixes
Deferred Work will no longer be applied to the work document as an inspection.

Zip Codes beginning with "0" are now recognized.

Pay button no longer shows on fully paid invoices.

Online Inspection Booking now shows all labor codes.

Error messages no longer show when editing job groupings.

Part numbers no longer show on repair orders when "hide parts" option is selected.

Authorization Report can now be locked with a password in Access Control.

Deferred Work text fields have been extended.

Commodity Codes now have default value.

MasterCard spelling is now corrected.   

VIN Lookup now overwriting previous lookups.

Discounts can now be applied before taxes are applied.

Outstanding deposits can now be applied to repair orders.

Part listings are no longer duplicated in the AutoZone catalog.

Vehicle catalog listings containing an ampersand (&) are now available.

Example: Chrysler Town & Country.
July 2015 Updates
Repair Order Deposits
Make deposits on in-progress repair orders.
Benefits
Collect, and keep track of, deposits before the work is complete.

Print receipts for deposits when they are added to an invoice.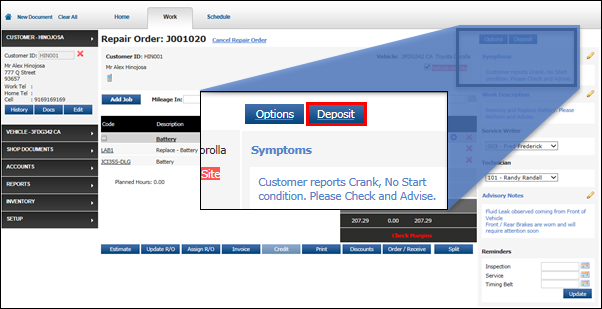 See Making Deposits on Repair Orders to learn more
Service Writer Report
View report showing total sales by Service Writer.
Benefit
Find repair orders and totals by individual Service Writer that can be used to measure Service Writer performance.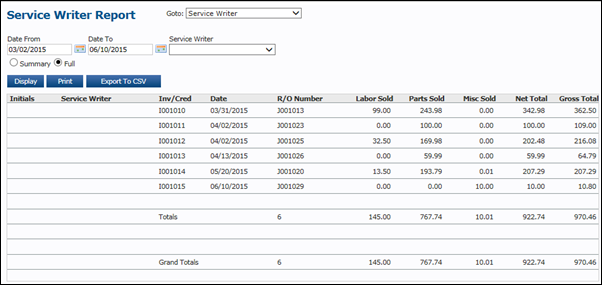 Custom Job Search
Search a list of Custom Jobs when writing a repair order.
Benefit
Save time when searching for Custom Jobs by entering keywords into the search bar.

Tax Setup Screen
Locate all tax-related setup options on one screen.
Benefits
Added the ability to have a different tax rate for each tax code.

Added the ability to apply an Urban Development Zone Tax (where applicable).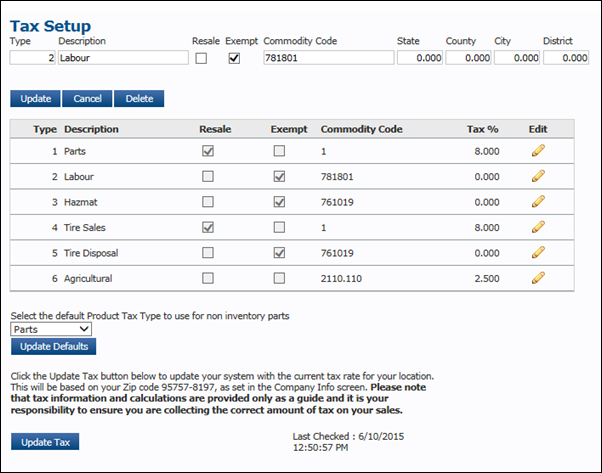 Canadian Tax Exemptions
Exempt the GST/HST and PST tax from the repair order.
Benefits
Allow for tax exemptions with exemption numbers and expiry dates.

Record all exemptions and information in the Sales Tax Report.
Online Inspection Booking (for BETA testers only)
Allow your customers to book inspection and diagnostic appointments online from your website.
Benefits
Increase business by taking online inspection or diagnostic appointments.

Allow customers to choose inspection or diagnostic service.
[video:1]

Miscellaneous changes and bug fixes
Ability to add Agricultural Tax now available.

Updated Payments report to include Payment Reference and R/O numbers.

Update Florida Disclaimer- removed check mark box from statement, using less paper.

New explanations in Pricing user options.

No limit to amount of Jobs on a Work document.

IAP credentials no longer require BrokerID or SMSID.

Ability to view tire inventory in Ascending or Descending order.

Catalog settings now deleted with catalogs.

Price Matrix now working correctly.

Now able to use a % sign to search from My Parts.

Ability to print displayed reminders from the Customer Relationship Manager.

Work Types now color coded on Work document.

Assigning a technician to a Job grouping will also assign all lines within the job grouping.

Recovered Deferred Work that is added to a work document will still be saved if the Work document is deleted.  
April 2015 Updates
Deferred Work
Keep track of suggested jobs.
Benefits
Set up reminder notifications in the customer profile.

Keep track of the reason work was deferred.

Pull deferred work directly onto the work document.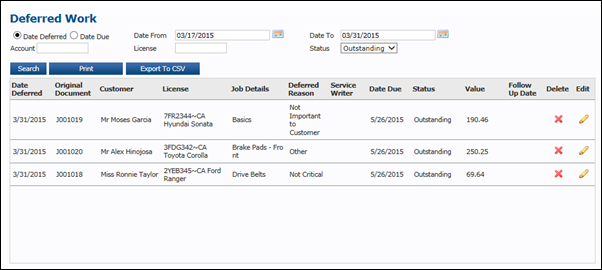 View the Deferred Work video.
Vendor-Specific Price Matrix
Assign specific markup prices to each vendor.
Benefits
Control markup pricing for specific vendors.

View the Vendor-Specific Price Matrix video.
Calculated Selling Price
See what the markup price of an item will be when adding parts to inventory.
Benefits
Immediately see what the customer will pay for the part based on your cost.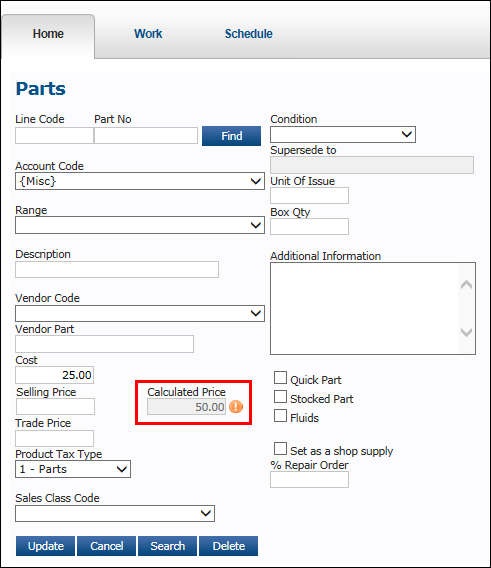 Updated Required Disclaimer for Florida Estimates
Updated to comply with Florida State laws.
Benefits
Updated Date Written to include the time. 

Increased printed font size.

Added Save Replaced Parts section.

Added Intended Payment Method.

Added Shop Supply & Hazmat Fees notice.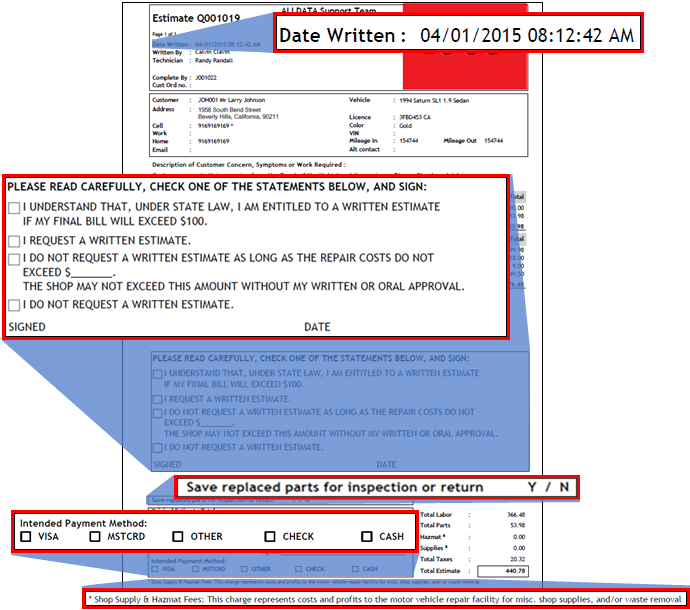 Minimum Margin Password Confirmation
Require a specific password when selling items lower than the set minimum margin.
 Benefits
Make sure you maintain minimum profit margins.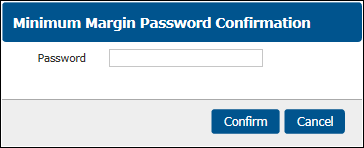 Updated Tax Report for Canadian Market
GST/HST and PST can be applied to the invoice.
Benefits
Add the correct tax to the invoice.

Includes GST/HST and PST in the Sales Tax Report.
QuickBooks
Export accounts receivable and invoice details to QuickBooks.
Benefits
Greater integration between QuickBooks and ALLDATA Manage Online.

Exports include more information from the invoice such as Customer Information, Payments, Parts and Labor.
Miscellaneous changes and bug fixes
Improved Electronic Parts Catalog vehicle selection.

Customer information displays correctly when creating a new R/O.

Correct page is found when creating a Purchase Invoice.

10+ job groupings can now be added to a Work document.

Technicians Work Report now includes techs assigned to job groups.

Correct date now displays in text box on Purchase Order screen.

Job Descriptions now have a limit of 60 characters.

Check Stock Icon replaced with AutoZone "A" icon.

Locked jobs are no longer editable.

Correct dates now appear on the Tech Sheet.

Technician information is aligned on Tech Sheet.
March 2015 Updates
Job Grouping
Group Parts and Labor under a Job in the work document.
Benefits
Manage the order of Jobs, Parts, and Labor within an Invoice.

Select the Add Job drop-down menu for quick access to options.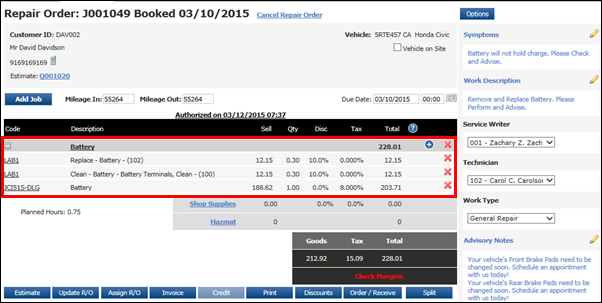 Additional Electronic Parts Catalogs
Added new Electronic Parts Catalogs
Federated Autoi 

IAP (Internet Auto Parts)

IMC
Benefits
Order and add parts from within ALLDATA Manage Online.

Reduce data entry time and production costs.

Find setup instructions HERE.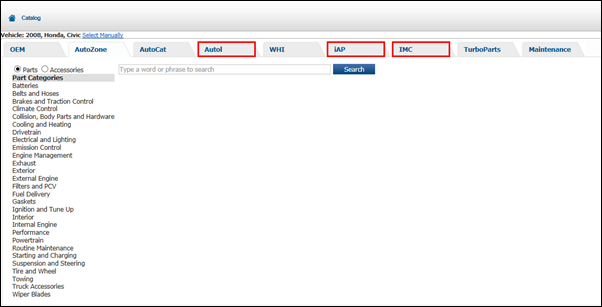 Search by VIN
Enhanced vehicle search to find vehicles and owners by complete or partial VIN.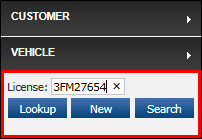 Vehicle Display Panel
Updated to include selected vehicle's Body Type, Fuel Type and Transmission.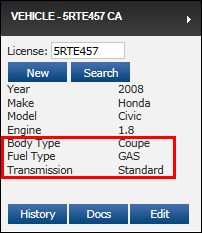 Save Vehicle Selections Made in Catalog
Enables users to Search and Save parts in the Catalog by entering a license plate number; updating customer information later.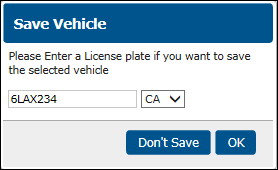 Technician Sheet
Improved Tech Sheet now includes time booked on the schedule.
Technician's Work Report
Updated to include R/O Number and the ability to select the Primary or QC Technician when viewing the report.
Custom Job Tax Codes
Includes the ability to select specific tax codes for a fixed price Custom Job. 
Existing Parts and Labor Catalog Enhancements
Improved access to WHI and DST catalogs.
Updated Sales Tax Report
Sales tax report no longer includes invoices converted from other shop management systems.
Miscellaneous changes and bug fixes
Text Message alerts sent from the Work Document screen now send to the correct customers.

Improved vehicle transfer process.

Updated document footers text display.

Improved Parts and Labor Catalog vehicle selection options.

Updated required fields in Schedule settings.

A supplier must now be selected before receiving parts.

The vehicle selector no longer displays duplicate vehicles.

Enhanced messaging when:

Setting an Inspection Reminder Date.

Generating reports.

Modifying a locked order.
2014 Updates
December 2014 updates
Job Authorization
Enable prompts to get customer authorization on Repair Orders.
Benefits
Improve shop workflow capability.

Reduce time spent contacting the customer.

Advanced Scheduler
Easily track and assign jobs to technicians and bays. 
Benefits
Drag-and-drop jobs to schedule bay workload. 

View bay and technician schedules at a glance.  

Pricing
Enhanced Pricing options and settings. 
Benefits
Create consistent price points, discounts and value.

Additional Electronic Parts Catalogs
Added new Electronic Parts Catalogs: 
AutoCat+

WHI

TurboParts (DST)
Benefits
Order and add parts from within ALLDATA Manage Online.

Reduce data entry time and production costs.

May 2014 updates
QuickBooks Exports
Export information from ALLDATA Manage Online in a format that can be imported into QuickBooks.
Benefits
Easily transfer the relevant information to manage your accounting activities.

Find setup instructions and FAQs HERE.

Access Control
Set up password access to specific sections of the program.
Benefits
Process Improvements
Added the ability to show the fitted tire price without tax.


Added the ability to display tech notes in the AutoZone catalog.